Indian low-cost operator AirAsia India grew its market share in August, while compatriot and sister carrier Vistara remained the country's second largest domestic carrier for the second month running.
Traffic results from India's Directorate General of Civil Aviation (DGCA) shows the Tata Sons-owned AirAsia India carrying close to 590,000 domestic passengers in August, or around 5.8% of market share.
It compares to July traffic data, where the airline carried about 440,000 passengers, taking about 4.6% market share.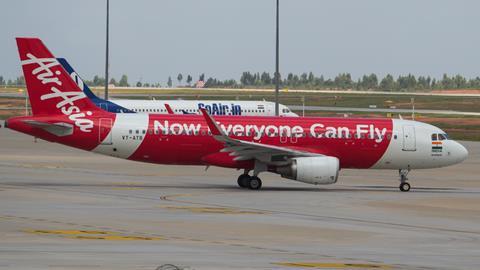 AirAsia India is one of the three Indian operators to increase market share from July, with the other two being Go First – which grew its share from 8.2% to 8.6% – and Air India, whose share increased marginally to 8.5% from 8.4% in July.
DGCA data also reflected the first month of operations for start-up Akasa Air, which carried around 24,000 passengers in August, taking about 0.2% of domestic market share. The low-cost airline began operations on 7 August, with an initial network of four points.
IndiGo remained the country's largest domestic operator, with about 57.7% market share. Vistara took about 9.7% market share, down from July's 10.4%.
This is followed by Go First, which overtook Air India to be third largest. SpiceJet, traditionally the country's second largest domestic operator, remained at fifth place, its market share down 0.1 percentage points to 7.9%.
In total, Indian carriers flew about 10.1 million domestic passengers, representing a 51% jump month-on-month, according to DGCA data.