Indian airlines saw a significant increase in domestic traffic in 2022 as pandemic restrictions eased, with Tata Sons-owned Vistara and Air India clawing back market share.
Data from India's Directorate General of Civil Aviation (DGCA) shows its airlines carrying more than 123 million domestic passengers in 2022, a 47% year on year increase.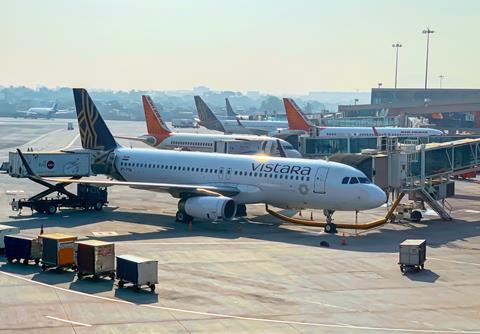 Low-cost operator IndiGo remained the country's largest carrier by market share, at around 56%. Its share in 2022 is slightly higher than in 2021, where it was the largest carrier at 54.8% market share.
Full-service compatriot Vistara, meanwhile, rose to become the country's second largest carrier, holding 9.2% market share. In 2021, Vistara was fifth largest carrier, at around 7.3%.
The carrier, which will be merged with fellow Tata-owned carrier Air India, has steadily grown its domestic market share in the second half of the year, overtaking its low-cost compatriots in passenger numbers.
Similarly, Air India also increased its share during the same period, ending the year with 8.7% domestic market share and becoming India's fourth largest operator.
Meanwhile, low-cost operator GoFirst, formerly known as GoAir, was India's third largest carrier, with about 8.8% share of the domestic market.
SpiceJet was the only domestic carrier to see market share shrink compared to 2021. It held close to 8.7% market share in 2022, down from 2021's 8.8%, and making it India's fifth largest carrier.
Low-cost start-up Akasa Air, which began operations in August 2022, ended the year with about 0.6% market share.