Following a double engine flameout on a Virgin Australia ATR 72-600, the airframer issued a clarification about the appropriate use of automatic and manual ignition.
The incident occurred during the early evening of 13 December 2018 as the aircraft (VH-FVN) operated flight VA660 on the Sydney-Canberra route in stormy weather, according to an Australian Transport Safety Bureau (ATSB) report.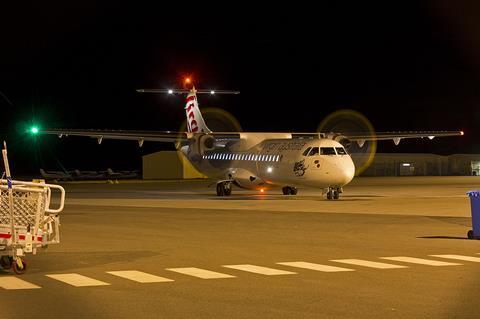 As the flight passed 11,000ft descending toward Canberra with both Pratt & Whitney PW127M engines set to flight idle, engine No. 2 lost power and flamed out.
"In the time it took the crew to acknowledge the warning and confirm what it was, No. 2 engine self-recovered, torque returned to normal and warnings ceased," says the ATSB.
One minute later, engine No. 1 also flamed out and immediately restarted.
The captain switched from automatic to manual ignition in order to provide continuous ignition as a precaution against further flameouts.
The crew continued the approach and landed without further incident.
ATR was notified of the occurrence, and told Virgin that "selection of manual ignition was not appropriate and that use of manual ignition other than as directed lowered the flameout recovery and protection afforded by automatic ignition".
ATR said that when automatic ignition is triggered, a sparking rate of 5/6 per second is delivered for 25 seconds. When manual ignition is engaged it delivers a sparking rate of 5/6 per second, but this reduces to one spark per second after 25 seconds.
"The implication is that if manual ignition has been ON for more than 25 seconds at the time of a flameout, it would be steady at one spark per second and not at the high spark rate of automatic ignition, therefore potentially delaying the relight process," states the report.
Manual ignition is reserved for electronic engine control (EEC) faults, or when the EEC is switched to off.
"The automatic ignition function performed as designed…the known flameout events on ATR aircraft all involved icing or moderate/heavy rain," adds ATSB. "The auto ignition system has been proven effective and reliable in providing flameout recovery and in all 21 events, as the engines successfully relit without pilot input."
None of the four crew or 42 passengers were injured in the incident. VH-FVN was delivered in 2012 and is managed by lessor Avation.