Troubled long-haul, low-cost carrier AirAsia X has lost civil suits mounted by two lessors over lease debts for six aircraft.
The carrier disclosed on 20 November that it was served with the judgement pertaining to legal action taken by BOC Aviation and ILFC, now owned by AerCap.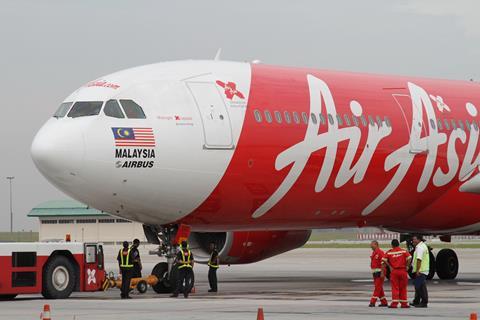 AirAsia X and its indirect wholly-owned subsidiary AAX Leasing Two were ordered to pay BOC Aviation around $23.4 million in unpaid leases, as well as £75,000 ($99,900) as cost for the claims. The two parties also have to pay the lessor an undisclosed "post-judgement interest" relating to the $23.4 million claim.
These pertain to the lease of four aircraft, details of which were not disclosed by the carrier.
With ILFC, the court ruled that AirAsia X, as well two other subsidiaries AAX Leasing Four and AAX Mauritius, were to pay £6.6 million in claims to the lessor. These relate to two other aircraft.
With both court orders, AirAsia X states that there "will be a cash outflow equal to the amount of the said order", but stressed that there was no operational impact.
It adds that it is seeking legal advice about the orders, in light of its proposed debt restructuring exercise, and will provide any further updates.
BOC Aviation sued AirAsia X in late August, relating to a breach of obligations under lease agreements. The lessor also alleged that the carrier had breached its obligations under four guarantees related to the lease agreements.
The four aircraft at the centre of the suit are not disclosed, but Cirium fleets data shows the lessor has three Airbus A330-300s with AirAsia X and one A330-300 with Thai AirAsia X. These were all delivered in December 2015.
The two aircraft in the ILFC suit are MSNs 741 and 786, both Thai AirAsia X aircraft that are currently in storage. MSN 741, registered HS-XTD, and MSN 786, registered HS-XTB, were first delivered to Cathay Dragon in 2006, before entering service with AirAsia X in 2013. HS-XTB went to Thai AirAsia in 2014, while HS-XTD joined a year after.
AirAsia X recently posted higher losses in its third-quarter financial results, as a result of a continued grounding amid the coronavirus pandemic. In early October, it unveiled a restructuring plan under which it aims to get debts waived and cut aircraft from its fleet in the hope that it will be able to avoid liquidation and raise fresh equity.