Cebu Pacific Air narrowed its second quarter operating loss to P5.8 billion ($115 million), with revenue more than doubling to P3.2 billion from a year earlier.
According to its unaudited results statement for the three months ended 30 June, the stronger quarterly revenue was due mainly to passenger revenues jumping ten-fold to P1.1 billion from P118 million a year earlier, when the Philippines was largely locked down amid the coronavirus pandemic.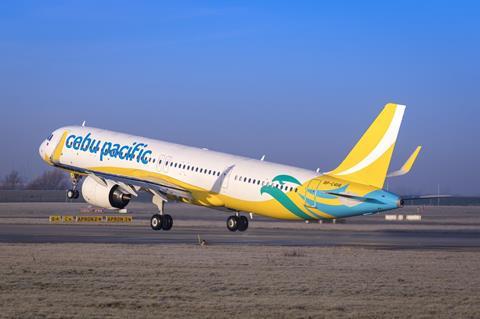 Expenses, however, rose 16% to P9 billion, driven by higher costs related to repair and maintenance, as well as flight operations.
Net losses narrowed to P6.7 billion from P7.9 billion in the second quarter of 2020.
The carrier notes that travel restrictions related to Covid-19 continue to have an impact both on domestic and international operations.
"The Covid-19 pandemic could have a material impact on the group's financial results for the rest of 2021 and even periods thereafter," it says. "Considering the evolving nature of the pandemic, the group will continue to monitor the situation."
Owing to fund raising measures, namely the issue of convertible preferred shares and convertible bonds, Cebu's cash position quadrupled in the first six months of 2021. As of 30 June, cash and cash equivalents stood at P16.3 billion, compared with P4.3 billion at the end of 2020.
Cash burn, however, remains challenging. For the first six months of 2021, cash outflows amounted to P5.98 billion, with liabilities exceeding assets by P7.1 billion.
"The Covid-19 pandemic has disrupted the business of the group in 2021, resulting in significant deterioration of earnings and cashflows, and may continue to significantly disrupt the business activities of the group," says the carrier.
"The group has undertaken various measures, including the implementation of [a] comprehensive business transformation program, to address the impact of the COVID-19 pandemic to its operational and financial performance."
As of 30 June, the carrier's operating fleet comprised 74 aircraft, mainly Airbus A320 family jets and ATRs. In addition, 11 aircraft were in storage at Alice Springs, Australia, compared with 14 in storage at the end of 2020.