Cebu Pacific Air cut its third-quarter operating losses slightly on the back of a significant increase in revenue, though hefty foreign exchange losses widened the carrier's net loss.
For the three months to 30 September, the carrier posted an operating loss of Ps6.2 billion ($124 million). This compares to the Ps6.7 billion loss it reported in the same period in 2020.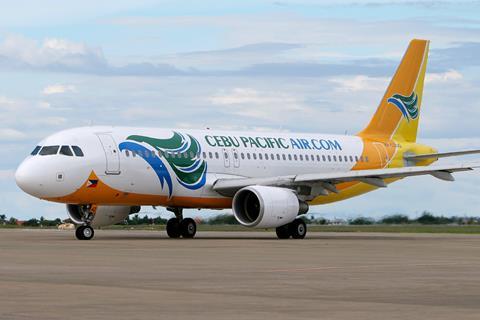 Revenue for the quarter rose nearly 62% year on year to Ps3.25 billion, while costs inched up 7.5% to Ps9.4 billion, as the airline gradually resumed flying.
Cebu Pacific posted a net loss of Ps8.2 billion for the quarter, widening the Ps5.6 billion net loss in 2020. The carrier reported a significant foreign exchange loss — at Ps1.78 billion — during the period, compared to a gain of Ps963 million in 2020.
It attributes the loss to the weakening of the Philippine Peso against the US Dollar, adding: "The group's major exposure to foreign exchange rate fluctuations is in respect to US Dollar- denominated long-term debt, short-term notes payable and convertible bonds payable."
Cebu Pacific ended the nine months to 30 September with close to Ps11.3 billion in cash and cash equivalents, significantly higher than the Ps4.3 billion it started the year with.
Despite still being in the red, Cebu Pacific says it was confident of its "strong balance sheet and equity position".
It says: "[The group] anticipates that the Covid-19 global pandemic would have a material impact on its liquidity. However, [it] is confident on its ability to raise cash for liquidity needs even if there were unprecedented losses incurred as a result of an expected slow recovery from this crisis."
"The group believes that it remains a resilient airline despite the adverse impact of the Covid-19 outbreak," the carrier adds.
It declined to provide any forecast for subsequent quarters, citing the "volatile nature" of the pandemic and "uncertainty" about when demand will fully recover.
As at 30 September, the carrier had a fleet of 73 aircraft, comprising Airbus A320s, A321s, as well as ATR 72s.