China's three largest carriers widened their half-year losses, as they count the economic costs of China's continued zero-infection policy, which has dampened travel demand.
The 'Big Three', comprising Air China, China Eastern Airlines and China Southern Airlines, also reported a significant decline in revenues – especially in passenger travel – bucking the recovery trend seen in carriers elsewhere.
During the six-month period to 30 June, China battled its worst-ever spike in infections caused by the more infectious Omicron variants of the coronavirus, which has severely tested the zero-Covid' strategy of president Xi Jinping. The first half saw key cities such as Beijing and Shanghai impose lockdowns, severely restricting peoples' movement.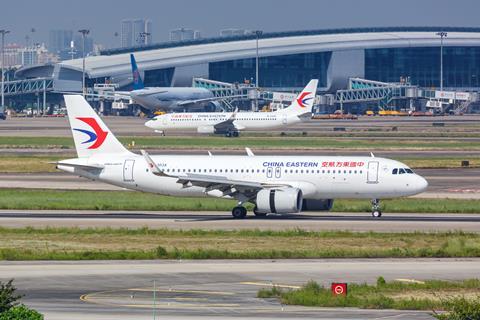 Consequently, the 'Big Three' saw traffic at the start of the year plunge to record lows – even lower than in 2020, at the onset of the pandemic. On a half-year basis, the three carriers saw passenger numbers fall as much as nearly 60% compared to 2021.
As China Eastern puts it in its latest financial results: "As impacted by the resurgence of the pandemic, domestic civil aviation transportation … [has] hit the trough."
The Shanghai carrier was arguably the worst-hit among the 'Big Three', as Shanghai was placed under a much-publicised lockdown that stretched for weeks.
DEEPER IN THE RED
China Eastern was CNY15.7 billion ($2.27 billion) in the red at the operating level, widening the CNY5.5 billion loss reported in 2021.
Half-year revenue sank 44% year on year to CNY21.2 billion, with passenger revenues falling by nearly half. Expenses fell about 15% to CNY36.9 billion, as flying activity reduced.
The SkyTeam carrier reported a 58% drop in total passenger numbers to 18.7 million, with capacity down 48% and traffic falling 56% year on year.
China Eastern reported a net loss of CNY18.7 billion, significantly steeper than the CNY5.2 billion net loss in 2021.
As for Air China, it disclosed an operating loss of nearly CNY17 billion for the half-year period – the steepest loss among the 'Big Three'. This compares to the CNY6 billion operating loss in 2021.
Revenue plunged 36% to CNY25.4 billion, led by a decline in passenger travel revenue of around 50%, but offset by a small uptick in cargo business.
Half-year passenger numbers fell 55% year on year to 17.4 million, with overall traffic and capacity shrinking 54% and 46% respectively.
Costs for the period fell just 8% year on year to CNY42.4 billion. While reduced flying activity meant operational costs were lower, the airline reported an uptick in fuel expenses, from the spike in fuel prices.
The Beijing-based airline widened its net loss, from 2021's CNY6.8 billion to CNY19.4 billion.
Meanwhile, China Southern reported an operating loss of CNY10.6 billion, widening the CNY3 billion loss in 2021's first six months.
Revenue fell about 21% to CNY40.8 billion, with passenger revenues falling nearly 33%. However, this was offset by a 26% increase in cargo earnings. By geographical region, only international passenger and cargo flights saw an uptick in revenue, against 2021's lower base.
Like its compatriots, China Southern saw a drop in passenger numbers, down 46% against 2021 to 29.7 million. Traffic sank 43% and capacity 34%.
Expenses fell 5.5% year on year to CNY53.3 billion, with flight operating costs – which includes fuel expenses – increasing 2.4%.
The Guangzhou-based carrier disclosed a net loss of CNY11.9 billion, widening the CNY3.9 billion net loss in 2021.
The 'Big Three' had warned in mid-July of record net losses citing "multiple shocks", including the Beijing's strict zero-infection policy and rising fuel prices.