China's three largest carriers were deeper in the red in their third-quarter earnings, as they were hit by a double whammy of the country's long-drawn zero-infection strategy and rising fuel costs.
The 'Big Three' – comprising Air China, China Eastern Airlines, as well as China Southern Airlines – also plunged to record nine-month losses amid a decline in revenues and an increase in expenses.
For the three months to 30 September, Air China reported a net loss of CNY8.7 billion ($1.2 billion), compared to CNY3.5 billion a year ago. China Eastern's net loss was CNY9.4 billion - far steeper compared to last year's CNY2.95 billion. As for China Southern, its net loss was CNY6.1 billion, versus CNY1.43 billion loss a year ago.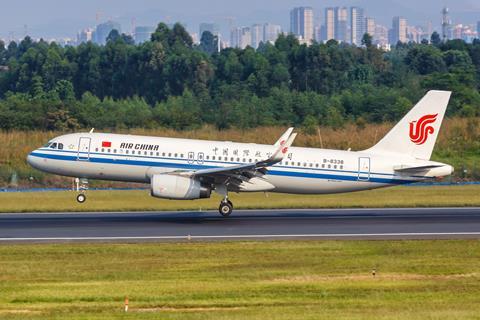 The three carriers were quick to attribute their poorer showing to the Covid-19 pandemic, but stopped short of blaming the country's strict pandemic curbs, which have previously included long-drawn lockdowns and domestic travel restrictions, for the steeper losses.
Other reasons include rising fuel costs, as well as devaluation of the Chinese Yuan.
RECORD NINE-MONTH LOSSES
For the nine months to 30 September, Air China posted a record operating loss of CNY33.3 billion, compared to CNY14.7 billion in the year-ago period.
It saw revenue decrease 27% year on year to CNY42 billion, while costs rose 4.6% to nearly CNY77 billion.
The Star Alliance carrier posted a steeper net loss of CNY28.1 billion, against 2021's CNY10.3 billion.
As for China Eastern, it was CNY30 billion in the red at the operating level. This compares to the CNY11.6 billion operating loss in 2021.
The SkyTeam carrier saw a 32% drop in revenue to CNY35.9 billion, while costs remained largely the same at CNY68 billion.
China Eastern, whose Shanghai hub was placed under a long-drawn lockdown earlier in the year, reported a steep CNY28.1 billion net loss, compared to 2021's CNY8.2 billion.
China Southern, meanwhile, reported an operating loss of CNY21 billion, widening the CNY7 billion loss in the same period last year.
The Guangzhou carrier saw revenue fall 10.6% year on year to CNY70.1 billion, while costs rose 7% to CNY94.6 billion.
Its nine-month net loss widened to CNY17.6 billion, versus CNY6.1 last year.
The worsening financial performance comes as China signals its intentions to continue with its zero-infection strategy for the foreseeable future, a move that will have a longer-term impact on future domestic travel demand.