Middle Eastern carrier Etihad Airways has confirmed its order for seven Airbus A350 freighters, cementing an agreement originally unveiled in mid-February.
The airline already had orders for 20 A350-1000s, of which five have been delivered.
Airbus says the freighters are "adding to" Etihad's order for the -1000s.
"This additional cargo capacity will support the unprecedented growth we are experiencing in the Etihad Cargo division," states Etihad Aviation Group chief Tony Douglas.
He describes the A350F as a "remarkable fuel-efficient aircraft" which will operate "in tandem" with the -1000 to support decarbonisation objectives.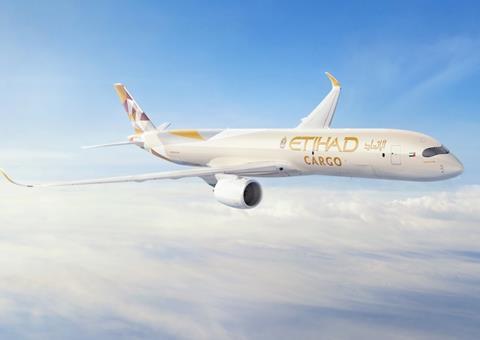 Seven A350Fs assigned to an undisclosed customer had appeared in Airbus's backlog on 22 June, taking overall firm agreements for the freighter to 31 by the half-year point.
As part of its freighter order the Abu Dhabi-based carrier has firmed a long-term Airbus flight-hour services package for the A350, and signed for the airframer's Skywise health-monitoring product.
These will collectively assist with maintaining aircraft performance and reliability, and enable the carrier to access real-time management of aircraft events and troubleshooting.
Etihad was previously an operator of the A330-200F, ordering and receiving five of the type, but withdrew them as part of a fleet-restructuring programme.
It had also been a more prominent customer for the A350, with 62 on order, including 40 A350-900s, before cutting two-thirds of this backlog in February 2019 to leave the 20 A350-1000s.