Airbus's A350 freighter development is advancing with Ancra International set to deliver the initial cargo-loading system in 2024, while Curtiss-Wright will provide actuation for the type's main-deck cargo door.
The twinjet will be configurable for general cargo – with 30 pallets on the main deck and 12 on the lower – or express freight, with 30 main-deck and 40 lower-deck containers.
Airbus has designed the jet for rear loading with a large cargo door, measuring 3.7m by 3.1m, capable of transporting items including large commercial engines such as the Rolls-Royce Trent XWB or General Electric GE9X.
"There's been quite of bit of demand for that in the market," Airbus head of freighter marketing Crawford Hamilton tells FlightGlobal, adding that it is intended to handle engines yet to be introduced. "You have to look to the future because this aircraft will be in service in 40 years' time."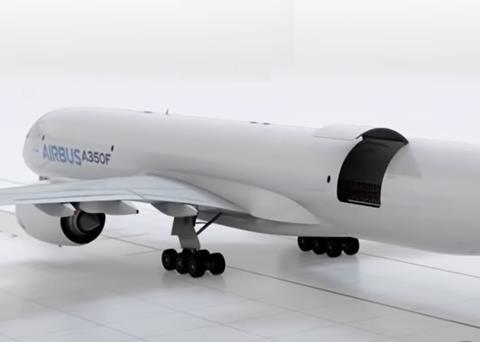 California-based Ancra's A350F system will feature a door-sill protector to interface with K-loaders, and a castor design which includes DC power-drive units to facilitate movement of pallets into the aircraft.
"One of things our technology does that's different is that you don't lose engagement with the pallets," says aircraft systems vice-president for sales and marketing Ed Dugic.
He says some aircraft use AC-based power-drive units which disengage when loading personnel want to stop or change direction. Dugic says the Ancra system maintains engagement with the pallet underside, which results in a "much safer operation".
While the guide rails, vertical and fore-and-aft restraints, and other components will be standard, Ancra will migrate a unique lock system for certain pallets from the A330 to the A350F.
Dugic adds that Airbus has requested the ability to transition and restrain some pallet sizes which are "not typical", stating: "There's going to be a capability in the A350F which hasn't been seen in other available freighters."
He says Ancra will start delivering equipment to Toulouse in 2024. "We'll be providing them with a mock-up system for testing, as well as the first system deliverable," says Dugic.
Hamilton says: "We'll be testing a mock-up, [Ancra] will be testing a mock-up, and we'll also have it on the aircraft and it'll be tested there as well. The big thing here is reliability and ensuring that it's mature at entry-into-service."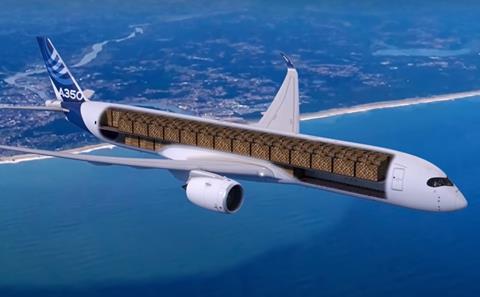 Custom technology for the A350F's main-deck door will be supplied by Curtiss-Wright, featuring rotary and linear actuators as well as power and control electronics for opening, closing, latching and locking.
The company's chief executive, Lynn Bamford, says the agreement is its first with Airbus for electro-mechanical actuation.
"This programme closely aligns with our strategy of helping our customers improve the functionality and reliability of their aircraft, including enhanced fuel efficiency," she adds.
Curtiss-Wright's system will include high-voltage DC architecture to minimise weight as well as health-monitoring functions, which will provide "greater reliability over legacy systems", it says.
Airbus is scheduling A350F service entry for 2025. The aircraft, powered by Trent XWB-97 engines, will have a maximum take-off weight of 319t and a payload capability of 109t, with a range of 4,700nm. Along with its cargo accommodation, the twinjet will feature a courier area – separated from the main deck by a rigid barrier – with 10 premium-economy seats and a cabin attendant position.