Taiwan's two major carriers — China Airlines and EVA Air— reported contrasting financial results for the year ended 31 December 2020.
In separate stock exchange disclosures, EVA Air plunged into the red for the full year, while compatriot China Airlines remained profitable despite a slowdown caused by the pandemic.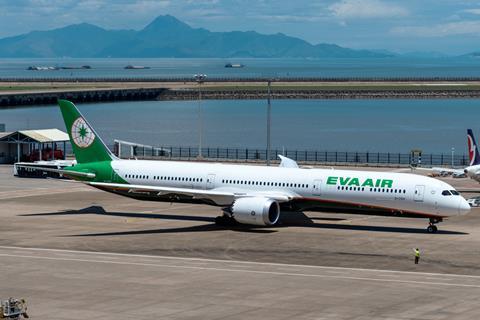 EVA Air reported an operating loss of NT$827 million ($29.1 million), reversing the NT$9.44 billion profit it disclosed in 2019.
The Star Alliance carrier halved its full-year revenue to NT$89 billion.
EVA Air ended 2020 with lower cash and cash equivalents, at NT$40.9 billion. This compares to the NT$51.5 billion it began the year with.
Meanwhile, China Airlines reported an operating profit of NT$2.18 billion for the year, representing an 18% decline year on year.
The SkyTeam carrier saw revenue decline 32% year on year to NT$115 billion.
Cash and cash equivalents at the end of the year stood at NT$27.1 billion, lower than the NT$28.5 billion it began the year with.
Both China Airlines and EVA Air did not provide a detailed explanation about their results, which are understood to be released at a later date. China Airlines has previously stated that strong cargo demand has helped increase its revenue —between January and November 2020, the carrier saw freight-related revenue grow 83% year on year.