Courts have approved a major restructuring plan for embattled carrier Hong Kong Airlines, which will see its fleet reduced to 20 aircraft from 53.
A court in the United Kingdom approved the plan on 9 December, with the court in Hong Kong approving it on 14 December, says Hong Kong Airlines.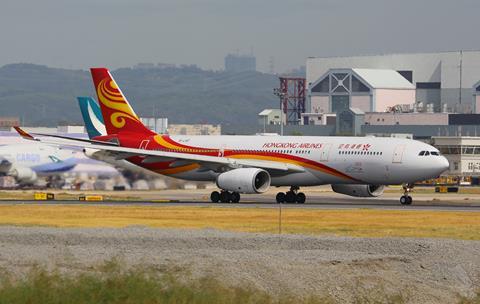 The plan also has the approval of creditors.
On LinkedIn, the carrier's chief financial officer Dean Zeng welcomed the plan.
"We are looking forward to activating the restructuring effective date before March," he said in a post. "Meanwhile, HKA will continuously resume passenger flights in Asia Pacific Region, improve our service for travellers, and of course maintain a high-level safety score.
The UK court document lists a total of HK$40.6 billion ($5.2 billion) in unpaid debts to six major creditor groups, and states that the carrier is insolvent. The largest creditor class involves aircraft lessors, accounting for HK$22.5 billion of total debts.
Previous filing have indicated that overall debt is HK$49 billion.
The restructuring plan involves the investment of HK$3 billion by a new investor, who in return will receive fresh equity, the reduction of the carrier's fleet to 20 aircraft from 53 before the pandemic, and a compromise with unsecured creditors.
Hong Kong Airlines, a unit of China's bankrupt HNA Group, has struggled for some years. In 2018-2019 it suffered weakened demand during Beijing's crackdown on Hong Kong's pro-democracy movement.
From 2020-22 Hong Kong was largely shutoff from the world as its government took measures to combat the coronavirus pandemic.
Cirium fleets data indicates that Hong Kong Airlines has just eight aircraft in service: five Airbus A320s and three A330-300s.