Hong Kong Airlines (HKA) expects to undertake a network and fleet "realignment" in the near term, as part of business recovery efforts after it secured investment for its restructuring.
The carrier, which is linked to China's HNA Group, hailed the "significant milestone", which comes after more than "three incredibly challenging years" of financial and operational woes.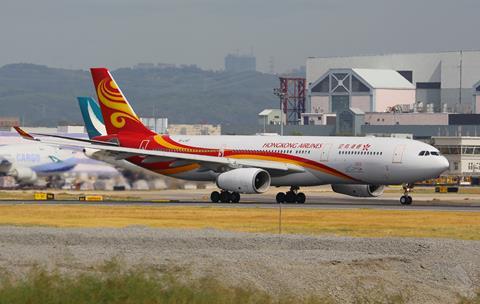 HKA had in mid-December 2022 secured court approval to restructure HK$49 billion ($6.2 billion) in debt.
Airline chairman Hou Wei did not disclose how much investment it received for the restructuring, but a HKA statement – citing an unnamed representative – says airline investors "pledged to providing full support to Hong Kong Airlines to take it to new heights again in the Hong Kong and international aviation markets".
Hou adds: "In the year ahead, our focus remains on business recovery, supported by strategic route planning and fleet realignment. The company will strive to offer our customers more choices and top-notch service, strengthening our role in developing Hong Kong as a world-class aviation hub."
The airline has a fleet of 30 all-Airbus aircraft, according to information from its website. These include 12 A320s, 16 A330s and two A350s.
The latest development comes as travel recovery gets underway in Hong Kong, after being shut off from international travel for nearly three years during the Covid-19 pandemic.
In March alone, HKA rolled out a series of flights, to Beijing's Daxing airport, Phuket in Thailand, as well as Okinawa and Fukuoka in Japan.
The airline had previously disclosed plans to return to pre-pandemic capacity by 2024. It was also looking to hire 1,000 more staff – including pilots and cabin crew – by the end of the year.