Hong Kong Airlines (HKA) expects to return to pre-pandemic capacity by mid-2024, as it restarts hiring following what it calls a "rapid recovery" in air travel demand.
The airline, which in mid-December won court approval for debt restructuring, will ramp up operations this month, reaching about 30% pre-pandemic capacity and flying to 15 points in its network.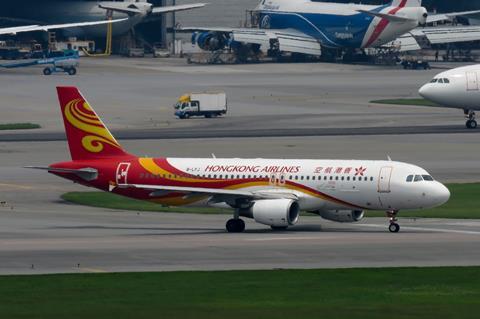 By the end of the year, the carrier, which is linked to China's troubled HNA Group, expects to operate at 75% pre-Covid-19 capacity.
Airline chairman Hou Wei says China's border reopening – after more than two years of pursuing a zero-infection strategy – is an area of opportunity, with the airline doubling frequencies into the Chinese mainland in January.
"We have leveraged every travel recovery opportunity over the past few months amidst unprecedented pent-up demand, and we continue to see positive business growth, particularly from the Japanese markets. Following the reopening of Chinese borders, Mainland China will definitely be the next market to contribute significantly to our travel recovery efforts," Hou adds.
HKA is also looking to hire 1,000 more staff – including pilots and cabin crew – by the end of the year, to "meet operation needs and future growth", bringing its total workforce up to about 70% of pre-pandemic levels.
The airline states it will be increasing the salaries of its flight crew and ground staff, a move it says is "a recognition of everyone's dedication who have supported the company's journey of riding out the storm".
HKA's latest announcement is the first positive development to come from the struggling carrier in over three years. It suffered from weakened travel demand around 2019 during Beijing's crackdown on Hong Kong's pro-democracy movement.
Then came the coronavirus pandemic, which shut Hong Kong off from the world, forcing HKA to operate a skeletal fleet of aircraft on cargo-only routes.
The latest announcement also comes as it embarks on a HK$49 billion ($6.3 billion) debt restructuring. The restructuring plan, which was approved by Hong Kong and UK courts in December, will see the airline's fleet cut from 53 aircraft to 20.