Indian low-cost carrier IndiGo is optimistic that passenger levels will return to where they were in February by the end of 2021.
During an analyst call on 7 June to discuss IndiGo's earnings for the financial year ended 31 March – in which the carrier reported that its net loss had widened to Rs58 billion ($796 million) from Rs2.3 billion a year earlier – chief executive Ronojoy Dutta said that by February 2021 bookings had returned to 80% of their pre-Covid level.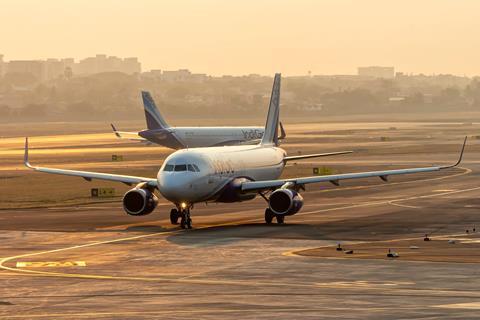 The following month, however, confirmed cases of Covid-19 began to increase rapidly in India and passenger numbers plummeted again.
Dutta says that passenger confidence "returns swiftly with a decline in Covid", and by the beginning of July he hopes to see "early momentum" returning. He is confident the airline will be "back to February levels by the end of the year", and expects a "meaningful" return of international traffic by IndiGo's fiscal fourth quarter in 2022.
"There is very little doubt in our minds that as long as Covid is controlled, travel demand will return quickly," says Dutta, noting that IndiGo is "poised to expand aggressively, both domestically and internationally" once the crisis has subsided.
"As soon as the crisis is over, we plan to restore our original growth plan in terms of international," adds Dutta.
While passenger numbers have declined, cargo operations have become a "bigger piece" of IndiGo's business. Dutta says the airline is in the process of sourcing four Airbus A321 aircraft to convert into freighters, the first of which it expects to receive in the first half of 2022. It is also carrying out a "broader study" into a long-term strategy for its cargo operation.
IndiGo ended the financial year with a total cash balance of Rs186 billion, of which Rs115 was restricted. Last month, the airline's board approved an equity raise of up to Rs30 billion by issuing securities. IndiGo chief financial officer Jiten Chopra says the airline "continues to explore options" to increase its liquidity and is "talking to lots of banks".
Dutta describes the current time as IndiGo's "Cinderella moment", predicting that while the situation "looks ugly" now, "very soon things are going to get better".