Indian low-cost carrier IndiGo will use knowledge gained through international charters during the coronavirus pandemic to help reboot its international network.
Prior to Covid-19, international traffic accounted for 25% of IndiGo's overall capacity, enjoying stronger growth and stronger margins than domestic flights, says IndiGo chief executive Ronojoy Dutta.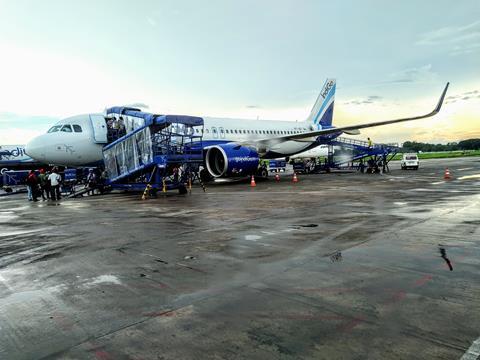 "That's why we were very bullish in terms of international expansion," he says. "Now plans are already there for doing that…the fleet is in place to do that. So, as soon as this Covid-19 crisis is over, we plan to restore the original growth path in terms of international."
He notes that IndiGo has gained significant knowledge of potential international destinations through direct charter flights it has operated during the pandemic. Typically, these routes would have been routes served with widebody aircraft via a hub.
"During Covid we're getting charter demand from all sorts of esoteric places, if you will, which gives us a very good sense of the traffic that was being carried before one-stop to other hubs, which we can now carry non-stop," he says.
Post-pandemic, the airline will focus on international destinations 6-7 hours flying time from key cities such as Bengaluru, Chennai, Delhi, Kolkata, and Mumbai.
He warns, however, that a "meaningful recovery" in international traffic is not likely until the fourth quarter of 2022.
Dutta made the remarks during an analysts' call following the release of the airline's fourth quarter earnings. In the three months to 31 March, the carrier saw net losses widen to Rs58 billion ($796 million) from Rs2.3 billion a year earlier. Revenue fell 59.1% to Rs146 billion.
During the quarter, the airline operated scheduled international services to 10 cities, mostly in the Middle East, and services to charter destinations. Still, international capacity for the quarter was roughly 30% compared with pre-crisis levels.
Dutta also touched on the airline's views on cash, in the context of a Rs30 billion equity fund raising undertaken in May. As of 31 March, cash and cash equivalents stood at Rs5 billion, compared with Rs7.2 billion a year earlier. However, bank balances other than cash and cash equivalents stood at Rs107 billion, compared with Rs102 billion a year earlier.
The airline has set a level below which it will not allow its cash to dip. Dutta states that this level is "quite high" compared with other airlines, and that this is viewed as an insurance policy against extreme events, such as a third Covid-19 wave in India.
"We're going to do everything to make sure the cash liquidity comes through revenues and not anything else," he says. "But were revenues or to shut down completely for whatever reason, we still want to have a strong balance sheet."
Dutta concluded on a buoyant note about the future: "Despite all the near-term challenges, our belief in the long-term India growth story with explosive growth in aviation remains intact. It is important to note that IndiGo has dedicated the past 12 months to strengthening its competitive position in the industry in terms of fuel costs, liquidity, customer service levels, network, and employee trainings & culture. We are therefore poised to expand aggressively both domestically and internationally once this pandemic is over."