IndiGo has disclosed its target to cut carbon emissions per available seat-kilometre to 18% below their 2016 level in the financial year 2023.
The Indian low-cost carrier makes the commitment in its first environmental, social and governance report, titled IndiGo Green.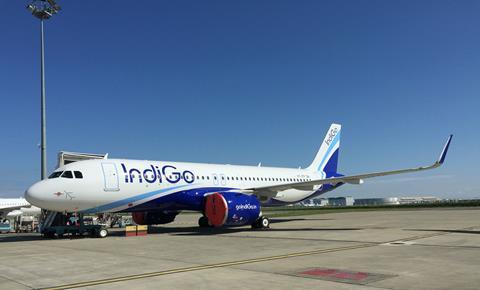 Gurugram-based IndiGo says it has made several strides towards sustainability, from investing in fuel-efficient engines, to planting trees, sponsoring biogas plants and investing in water-conservation projects.
The carrier adds that it has cut carbon emissions by 1.48 million tonnes between its financial years 2015 and 2021.
Chief executive Ronojoy Dutta states: "As a socially responsible airline, we are deeply concerned about the scarcity of natural resources and the increasing impact of climate change on our planet; we understand the importance of sustainability for future generations.
"We believe it is important for us to contribute back to the community we serve and to maintain strong governance processes, to ensure long-term success and stability.
"IndiGo is committed to enhancing long-term value for its stakeholders, investors, and customers by maintaining high standards of corporate governance at all levels of the organisation."