High fuel prices and India's second wave of Covid-19 combined to hurt IndiGo's first-quarter performance, despite a big recovery in revenue.
The Indian low-cost carrier generated an operating loss of INR31.8 billion ($427 million) for the first three months of its 2022 financial year ended 30 June, widening from an operational loss of INR28.4 billion a year earlier.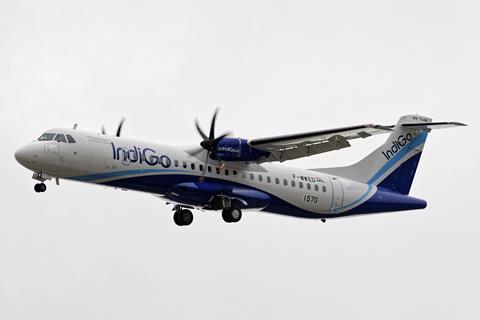 Revenue from operations, however, more than tripled to INR30 billion, as ASKs rose five-fold from a year earlier. RPKs were up five-fold year on year, and yields fell 23.2%.
The sharply higher revenue and RPK figures reflect that New Delhi locked down the country from late March to late May 2020, effectively grounding the country's airlines.
In an analyst call, IndiGo chief executive Ronojoy Dutta attributed the bigger losses to fuel prices that doubled over the year, as well as India's second wave of Covid-19, which hurt demand for air travel.
"The additional capacity was tempered by the reality of Covid impacting demand," he says.
Aircraft fuel expenses rose nine-fold from a year earlier to INR12 billion.
As for the second wave of coronavirus, Dutta pointed out that the airline earned total revenue of INR15.4 billion in April, which dived to INR6.7 billion in May, before crawling back up to INR9.6 billion in June.
Given the challenging market, the airline was forced to put some employees back on unpaid leave. The Indian government's current capacity cap is now at 65% of pre-pandemic levels for Indian carriers.
As of 30 June, the carrier had 277 aircraft in its fleet, comprising 122 Airbus A320neos, 85 A320s, 41 A321neos, and 29 ATRs.
The carrier had free cash of INR56 billion as of 30 June, down 25.3% from INR75.3 billion a year earlier. Restricted cash – which is unavailable for ordinary business use - stood at INR114 billion, up 4.8% from a year earlier.
"It is a very, very volatile environment in which we are quite optimistic, then we go to pessimistic, then optimistic again – all within a very, very short period of time," says Dutta.