Airbus has delivered three A350-1000s to Qatar Airways, its first handover of long-haul aircraft to the Middle Eastern carrier for eight months.
Qatar received its last long-haul jet from the airframer, an A350-1000, on 27 February – giving it 15 of the larger A350 variant.
It had already completed deliveries of its 34 directly-ordered A350-900s in September last year.
All three of the latest A350-1000s – registered A7-ANO, -ANQ and -ANR – departed in sequence from Toulouse for Doha on 22 October.
"Qatar Airways is one of the few global airlines to have never stopped flying throughout this crisis," says chief executive Akbar Al Baker.
He adds that it is "one of the only airlines to continue taking delivery of new aircraft", although it has kept its A380 fleet grounded.
Qatar has 42 A350-1000s on order. The latest three deliveries mean it will have 18 in the fleet – taking its overall A350 complement, of both variants, to 52 jets.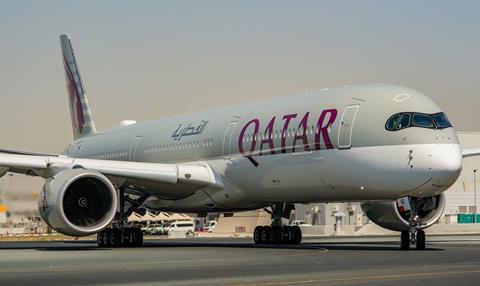 Airbus's long-haul deliveries have been slowed by the crisis. It delivered no A330neos for three consecutive months from May, and no long-haul aircraft at all in July.
But signs of a pick-up have emerged with 13 long-haul deliveries in August-September – four A330neos and nine A350s – almost as many twin-aisle aircraft as it handed over in the five previous months.
Qatar Airways has been flagging the efficiency of the A350 compared with its A380s, of which it has 10.
On routes from its Doha base to several destinations – Paris, Frankfurt, London, New York, Sydney, Melbourne and Guangzhou – the A380 typically emitted 80% more carbon dioxide per block hour compared with the twinjet, increasing to 95% on the New York and Melbourne routes.
Qatar Airways has also focused on deploying its 30 twin-engined Boeing 787s on long-haul operations. The airline says it has the fleet flexibility to offer suitable capacity, rather than being "forced to fly oversized aircraft".