Leisure company TUI Group is to introduce Embraer 195-E2 twinjets to its Belgian operation, under a lease agreement with AerCap.
TUIfly Belgium – which already operates the earlier-generation E190 – will receive the re-engined aircraft in the first half of next year.
They will be configured in a single-class layout featuring 136 seats. The jets are powered by Pratt & Whitney PW1900G engines.
"Operating on short- and medium-haul routes, the new aircraft is the most efficient in the market," says TUI Group chief airline officer Marco Ciomperlik.
He says they will be conducting services primarily from Antwerp and allow the carrier to extend its holiday network from northern Belgium.
The E2s will be taken on long-term lease from AerCap's current portfolio.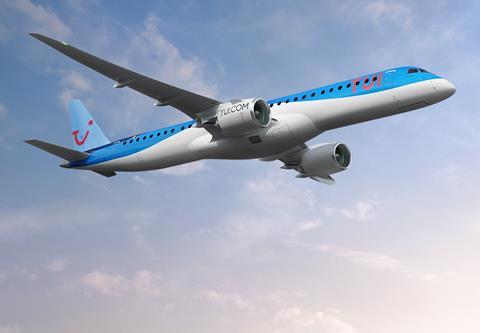 "Selection of the E195-E2 is an important milestone to make TUI's fleet even more efficient in support of our sustainability goals," says TUI Group managing director for fleet and asset management Tom Chandler.
AerCap says the E2s will be delivered over the course of March to May 2023. The lessor has 45 E2s – both the E190 and E195 variants – on order or owned.
Chief commercial officer Peter Anderson says the twinjet is the "perfect aircraft" to support TUI Group's operation, with "greater versatility and improved efficiencies".