Central European budget carrier Wizz Air is expecting the current fiscal year to be one "marked by high inflation", as it looks to return to pre-crisis cost levels and improve its competitiveness.
Wizz Air turned in a full-year net loss of €642 million ($686 million) – higher than the previous year – but its operating loss of €465 million was 12% lower.
The company also points out that fourth-quarter losses were better than forecast, owing to the improving trading environment.
Its ex-fuel unit cost remained 24% higher than the pre-crisis level in March 2020, but the company says it investments in its network, fleet and personnel will "bear fruit" and help it return to previous figures.
"Rising energy costs and inflation across Europe will continue to favour ultra low-cost carriers as consumers reconsider spending choices," insists Wizz Air chief Jozsef Varadi.
Wizz is expecting operating losses to continue into the first quarter.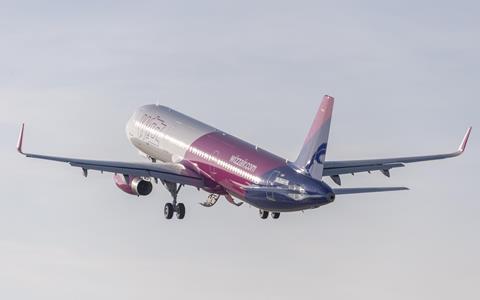 But Varadi is optimistic over the airline's prospects, believing the Covid-19 situation has entered an "endemic phase", while the company has "managed" the trading impact of the Ukraine conflict.
The carrier is partially-hedged on fuel for the summer period, and it is looking at opportunities to extend this coverage.
"We stand ready to deliver our largest-ever summer flying programme and the fastest growth in the industry," says Varadi.
First-quarter bookings are showing a strong performance, with average fares trending higher.
While not providing detailed full-year guidance – the industry remains vulnerable to operational disruption at airports and other volatile elements – Varadi says the carrier is focused on optimising costs and maximising revenues.
He is "confident" that the airline can return to pre-crisis productivity and ex-fuel unit cost levels during the current fiscal year.