Evacuating and repatriating patients worldwide is throwing up a different set of problems during the crisis for medical transport specialist
One part of private aviation that you might imagine would be less impacted by a global pandemic is medevac. However, dealing with ever-changing international regulations, and the need to screen and keep Covid-19 patients as isolated as possible has led to massive challenges for one of the segment's biggest operators, AirMed International.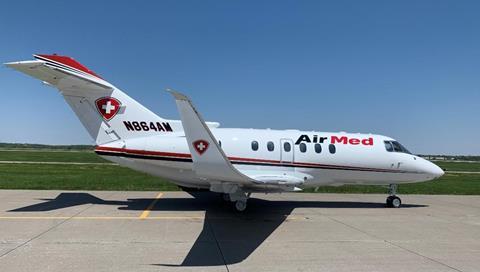 "The nature of our business hasn't changed, but how we do it has," says president Denise Treadwell. The Birmingham, Alabama-based company's long-haul operations have seen the greatest impact, with ever-changing national regulations on entry from abroad, and difficulties finding hotels for overnighting crew to arrcraft fuel with so many fixed-base operations shuttered, she notes.
"No business is Covid-proof, including ours," she says. "Some FBOs don't want us to come there, so in these cases we have to rethink where we are going to stop, but in almost all cases we have been able to provide the same service as before."
AirMed has just added a Hawker 800XP to its Birmingham-based fleet of two other Hawker jets. In addition the business leases a Bombardier Challenger 600 series jet for long-distance trips, and also operates Learjet 35/36 aircraft on domestic services, and has a Beechcraft King Air 200 and Hawker 400 based at healthcare facilities in San Antonio and Las Vegas, respectively.
The company is the preferred fixed-wing medevac provider for several US hospitals, including the world-renowned Mayo Clinic. It also has contracts with the US Department of Defense.