Gulfstream is halting production of the G550, ending a 17-year run for the long-range business jet.
In a statement issued on 17 June, the US airframer says it has sold the final commercially available unit, which will be delivered to its owner in 2021.
Company president Mark Burns says, "With more than 600 in service, the G550 has earned its place as a leader in business aviation".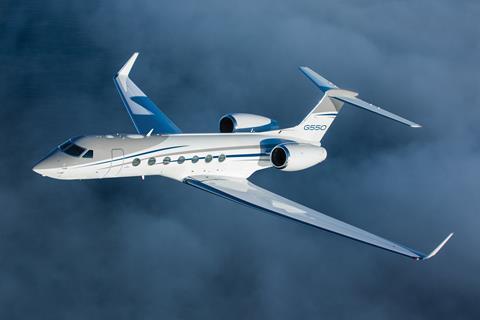 The 19-passenger 6,750nm (12,500km)-range aircraft was introduced in 2000 and entered service three years later as the launch platform for Gulfstream's Honeywell Primus Epic-based PlaneView flightdeck. "Its tremendous range and high-altitude capabilities put the aircraft at the top of its class, as evidenced by its more than 55 speed records," says Burns.
"Its technological innovations and safety enhancements earned the G550 development team the prestigious Robert J Collier Trophy in 2003", he adds.
Deliveries of the Rolls-Royce BR710 C4-11-powered aircraft have taken a hit in recent years, however. Cirium fleets data records 50 shipments in 2011 at its market peak, falling to 14 units in 2016 and 2017, 17 aircraft in 2018 and 24 examples last year. Between January and March, Cirium lists four G550 deliveries.
With the exit of the $55 million aircraft, Gulfstream's line-up now totals six high-end business jets – G280, G500, G600, G650/ER and the in-development G700, which is scheduled for certification and service entry in 2022.
"Over the past decade, Gulfstream has solidified its reputation for delivering high speed and ultra long range," Burns says. "And we know that's what our customers want: the ability to regularly and comfortably fly at Mach 0.90, so that's where we'll continue to place our focus."
He says Gulftream's "newest large-cabin offerings, whether the high-speed G650ER or the next-generation G500 and G600, continue this heritage by offering exceptional safety, innovation and performance, making them ideal for both commercial and special missions operations".