Honeywell Aerospace's 2020 business-aviation outlook predicts the coronavirus industry downturn may only slightly dampen demand for new business jets between 2021 and 2030.
The aerospace supplier's Global Business Aviation Outlook forecasts a relatively quick industry recovery, predicting manufacturers will deliver 7,300 new business jets in the period, down 4% from last year's 10-year outlook.
The 2020 report, released on 6 October, predicts business-jet usage will reach 80-85% of 2019 levels by the fourth quarter and return to the 2019 baseline by the middle of 2021.
"The findings… showcase the health of the business-jet market and help to validate that business-jet demand remains strong," says Honeywell Aerospace director of strategy and industry marketing Shantanu Vaish. "We are encouraged… about the pace of recovery."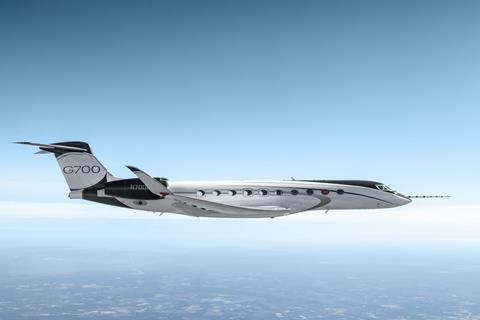 The report comes as the industry reels from the coronavirus pandemic, which has slowed deliveries, due partly to travel restrictions, and led manufacturers to shed jobs. Honeywell bases its outlook on industry trends and a survey conducted between July and September of more than 1,000 aircraft operators of a combined fleet of more than 3,500 business jets.
The report pegs the value of the expected 7,300 new business-jet deliveries at $235 billion, 5% less than the 2019 survey projected. Deliveries and delivery values will likely return to 2019 levels in the first half of the decade, says Vaish.
"Short-term reductions in both deliveries and expenditures due to the pandemic aren't expected to have a lasting impact on the business-jet industry," Honeywell says.
Notably, 80% of survey respondents say their "purchase plans have not been affected by" the Covid-19 pandemic. Five-year purchase plans are expected to decline less than 1%, says Honeywell.
The number of new jets that operators expect to buy during the next five years equals 16% of their current fleets, roughly unchanged from last year's findings. Of those, respondents intend to purchase 30% within two years, down 5 percentage points from last year's survey – a change reflecting "near-term uncertainty", Honeywell says.
The report predicts new-jet deliveries in 2021 will jump 13% from virus-hammered 2020, and that deliveries will increase 4-5% annually through 2030.
As in past years, large-cabin jets will continue driving demand, accounting for more than 70% of worldwide new-jet purchase values during the next five years, Honeywell estimates.
REGIONAL DEMAND
The report predicts North American buyers will purchase 64% of new jets delivered globally over five years, a four percentage point jump from last survey's results.
North American customers expect to replace the equivalent of 15% of their current fleets during the period, the same percent as predicted in last year's report. In North America, 82% of respondents expect to use their jets less frequently this year than last – a decline similar to that reported by operators in other regions, says the report.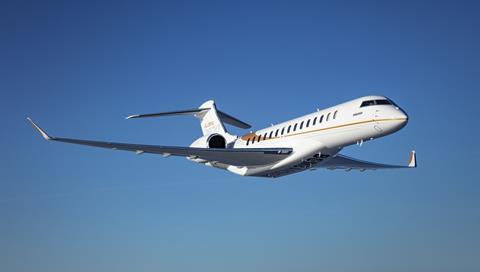 Honeywell estimates European buyers will purchase 18% of new jets delivered globally in the next five years, Asia-Pacific buyers will take 10%, Middle East and African buyers will take 4% and Latin American buyers will take 3%.
The Latin American prediction of five-year global share is down from last year's 7% estimate, reflecting an expectation among many respondents that economic conditions there will deteriorate in the next one or two years, says Vaish. By contrast, respondents widely expect the US economy will improve.
Respondents expect the number of used jets they will buy in the next five years will equal 25% of their current fleets, down from last year's finding of 31%. However, respondents "did not signal" plans to sell "late-model" aircraft – those manufactured between 2015 and 2020 – due to Covid-19.
Additionally, Honeywell's report finds no evidence "that a decline in commercial travel has led to an increase in purchases of business jets".
"The good news here is that we have seen a resilient market," Vaish says. "We see that, long-term, the forecasts have not changed significantly. They are pretty constant."