Gulfstream is seeking to reassure the business-aircraft sector that its commitment to the G280 super-midsize business jet remains unflinching, despite "rumours" of the contrary.
Executives stressed that message on 30 March, saying they are investing in G280 upgrades and expect demand for the jet will increase in the post-pandemic world.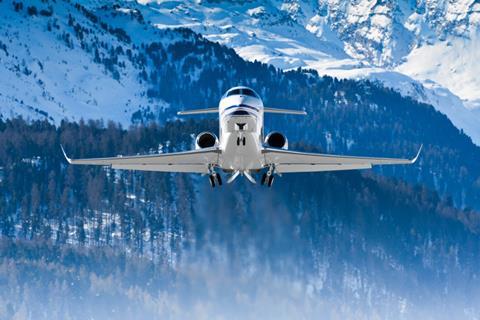 "Our commitment to the G280 remains strong. The rumours are… not true," Gulfstream president Mark Burns tells reporters on 30 March. "There is a re-energised marketplace that the G280."
Such rumours include chatter that Gulfstream and G280 partner Israel Aerospace Industries (IAI) might soon stop producing the jet and replace it with a new model, Gulfstream says. "Those rumours, in large part, are being perpetuated by our competitors."
Questions have swirled for years about the future of the G280 programme.
In late 2018, Israeli publication Globes reported that IAI approved development of an updated G280, and that both IAI and Gulfstream had invested in the product.
Gulfstream has not confirmed any such project.
Powered by twin 7,624lb (33.9kN)-thrust Honeywell HTF7250G turbofans, the 10-passenger G280 has 3,600nm (6,670km) range, long-range cruise speed of Mach 0.80 and Collins Pro Line Fusion-based avionics. Globally, 212 G280s are in service.
The jet is now a bit of an outlier for Gulfstream, being the only super-midsize jet in a portfolio otherwise composed of long-haul, large-cabin jets. Last decade Gulfstream and IAI stopped producing the G150, another mid-size jet.
The G280 faces fierce competition from jets like Bombardier's Challenger 350, Cessna's Citation Longitude and Embraer's Praetor 600.
Speaking on 30 March, Burns stresses that Gulfstream has no plans to stop producing G280s. Rather, the company is spending money to improve the jet, he says.
Updates "in the works" include equipping G280s with a "predictive wind shear" system, and with a "surface management system" that warns pilots visually and aurally about unsafe ground conditions, helping prevent runway incursions.
Other G280 improvements include a "controller-pilot data link communication" system, which allows pilots and controllers to exchange text messages, and a predictive landing system, which predicts to pilots where on the runway the aircraft will likely stop if they continue with an approach, helping prevent runway overruns.
Gulfstream is also working to reduce the G280's cabin noise. It notes that G280s are certificated for steep approaches, allowing the type to access airports like London City.