Gulfstream continues to fly ahead with development of its G700 large-cabin business jet, an aircraft the company insists will give it a firm footing in the highest echelons of the business aircraft market. In launching the programme at the National Business Aviation Association convention in October 2019, the Savannah-based airframer underscored its intentions: to go one better than its current G650ER flagship and take on rivals such as Bombardier's Global 7500.
Towards that end, Gulfstream gave the ultra-long-range G700 new engines and advanced cockpit, flight control and cabin technology. But much can change in a year, as the coronavirus downturn has shown.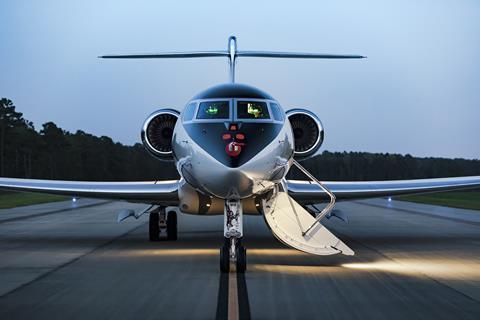 Even as the industry adjusts to plunging profits, and with companies including Gulfstream slashing staff, development and flight testing of the 19-passenger, Mach 0.925 G700 remains on schedule, the company insists.
"We didn't miss a beat during Covid," says Gulfstream senior vice-president of innovation, engineering and flight Colin Miller. He notes that the company has adopted remote working policies amid the pandemic. "We are on track for an [entry into service] and customer deliveries in 2022."
Gulfstream is bringing the Rolls-Royce Pearl 700-powered jet through flight testing close on the heels of the G500 and G600 development programmes, and incorporating many of those aircraft's enhancements into the latest model. Gulfstream delivered the first G500 in September 2018 and the initial G600 in August 2019.
Qatar Executive, also a G500 and G650ER operator, has thrown its support behind the G700 as launch customer, with 10 orders. Gulfstream has also secured G700 orders from Flexjet, making the Cleveland-based fractional ownership company the first North American G700 buyer. The G700's list price is $78 million, perhaps a hair more than competing jets.
Prior to the G700's 14 February first flight, Gulfstream logged some 22,000h of G700 lab tests. The company makes heavy use of a "systems-integration bench", where staff perform the heavy lifting of meshing the jet's advanced electric systems, which include its Honeywell Primus Epic-based Symmetry flightdeck and a GE Aviation-made data concentration network (DCN).
"Integration is never easy, especially for these complex designs," Miller says. "We have taken it upon ourselves to be the integrator."
The company also makes use of a "cabin integrated test facility", where it evaluates cabin systems.
"A big message for our customers is [that] we test the cabin as thoroughly as we test the flightdeck," Miller adds.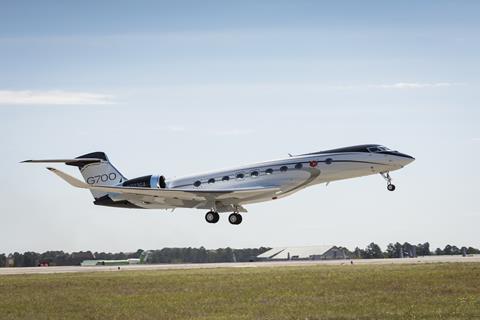 The test fleet now stands at six G700s, with one more yet to join the programme, and the aircraft have together logged some 600h. The work of envelope expansion testing has fallen to the first test article, with serial number 87001.
"We are starting to validate our take-off and landing performance and we are testing the airplane to make sure that it's fully safe in the event of an engine failure," says Gulfstream senior experimental test pilot Jake Howard.
The second test jet first flew on 20 March and has since been subjected to rig testing, which involves bending and stressing the aircraft to "make sure it can take the loads", he says.
Gulfstream has been performing in-flight-load tests with the third test jet – work that is about 75% complete – and has assigned environmental control and icing evaluations to test jet four.
Jet five and a yet-to-be produced seventh test jet will handle avionics trials, and Gulfstream will use the sixth G700 as a demonstrator and production-test aircraft, Miller says.
COLD-WEATHER TESTING
The company has completed flutter and aerodynamic stall tests, and earlier this year wrapped up cold-weather testing at Eglin AFB in Florida.
There, the team subjected a G700 to a 10h "cold soak" at -40°C (-40°F): "Just as if you were in Deadhorse, Alaska, and you walk out and crank it up," says Miller.
Pilots have also flown a G700 to the breakneck speed of M0.99 while at 54,000ft – higher than its 51,000ft maximum cruise altitude.
Gulfstream has been running the test programme amid the triple stresses of the coronavirus pandemic, the aerospace industry downturn, and broad criticism of Federal Aviation Administration (FAA) certification processes following two Boeing 737 Max crashes.
Though Gulfstream closed 2019 with its strongest backlog in 10 years, neither it nor its competitors have been spared hardship from the pandemic-driven aerospace downturn, despite suggestions that business-jet demand might inch higher amid the pandemic as flyers shy from commercial air travel.
News broke in May that Gulfstream was cutting 700 jobs. Its parent, Virginia-based General Dynamics, reported that its aerospace business profit fell by 52% year on year in the second quarter of 2020, to $159 million.
Covid-19 has required Gulfstream to proceed cautiously by socially distancing staff and shifting to remote flight briefings.
Although the airframer reviewed its test programme in the light of criticism against the FAA following the 737 Max issues, the agency has permitted it to proceed with its original test plan. The FAA has also adjusted to coronavirus by permitting "virtual witnessing" – meaning regulators can view some G700 tests remotely via webcams, says Miller.
He insists that the various aerospace-industry stresses have not thrown G700 work off track. "There haven't been any major shifts," says Miller.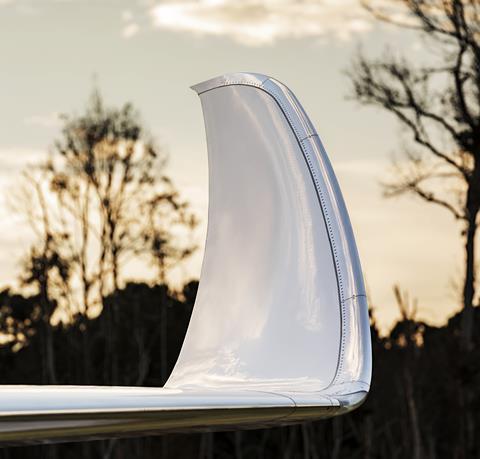 He ticks off the G700's technical features, noting the cabin systems, advanced avionics and DCN, which he says ease pilot workloads and improve safety and reliability.
R-R designed its 18,250lb-thrust (81.2kN) Pearl 700s specifically for the G700 – a costly but worthwhile effort because "you can't hot-rod an airplane without developing an engine to go with it", Miller says.
The Pearls have "straight and isotropic" aerodynamic air flows and more-optimised combustors, giving them at least 3-5% better fuel efficiency than the G650's 16,900lb-thrust R-R BR725s, says Miller.
"It is at the point where there is no wasted flow," Miller says of the Pearls. "[Rolls-Royce] developed an engine that perfectly matched the airplane."
Combined with drag-reducing "shark fin" winglets, the Pearls contribute to the G700's extreme range – an advertised 7,500nm (13,900km) at M0.85 and 6,400nm at M0.9. Gulfstream continues to evaluate whether it can "do better", Miller says.
The G650ER can also fly 7,500nm, but the competing Global 7500, according to Bombardier, can fly slightly further, to 7,700nm.
ROOM WITH A VIEW
However, Gulfstream has said large-cabin jet buyers value additional space more than extra range, noting that jets in the G700's class can already connect extraordinarily distant cities and essentially reach anywhere with one stop.
And cabin space is where the G700 shines, says Gulfstream, describing the jet has having the "tallest, widest and longest" cabin in the industry.
At 17.4m (56ft 11in) long, the G700's cabin is about 3m longer than the G650's and slightly longer than the Global 7500's. The G700's cabin is 1.91m high and 2.49m wide – the same as the G650 and bigger in both measurements (but only by few centimetres) than the Global 7500. The G700 has a 48,800kg (107,600lb) maximum take-off weight and can carry a payload of 2,900kg plus 22,400kg of fuel.
The cabin has 20 of the large, 71.4cm (28.1in)-wide windows found on the G650, providing what Miller calls "a tremendous amount of natural light". Gulfstream will also equip the jet with a lighting system composed of "20,000 LEDs that can simulate any phase of the sun".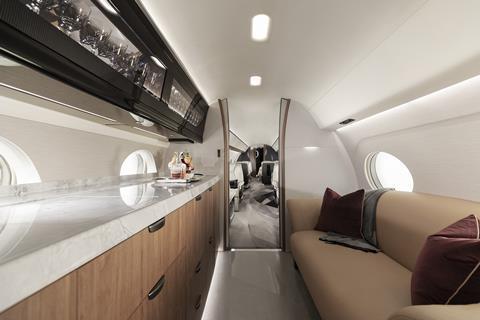 The G700 has the same Symmetry cockpit as the G500 and G600. It includes 10 touchscreen displays and BAE Systems-designed active-control sidesticks, which are linked so each pilot feels the other's commands, says Miller.
"They allow us to open up the cockpit and allow us to provide pilots with situational awareness," he says, noting that accidents have been attributed to unlinked sidesticks. "The fact that they move together is a first for civil aviation."
Thales is responsible for the G700's flight control computer and Parker Aerospace makes its fly-by-wire control system. The jet has a "predictive landing performance system" that during approach determines where on the runway the aircraft will likely stop, and warns pilots of possible overruns.
The G700 has an enhanced flight vision system based on infrared technology, that presents images of the outside world to pilots, and permits authorised pilots to descend below instrument-approach minimums.
It also has a synthetic vision system (SVS), which displays computer-generated images of the outside world. But while the G500, G600 and G650 have SVS presented on cockpit primary flight displays, the G700 is the first Gulfstream aircraft that has SVS presented on head-up displays (HUDs), says Howard.
Gulfstream is also working on an update that would present combined synthetic-infrared views – a "combined vision system" – on HUDs.
The G700's flight systems, like those on the G500 and G600, feed into the DCN. That network shares data between systems and helps complete some actions previously performed by pilots, such as checklist items.
"Our flightdeck philosophy is to make it simple and intuitive… error resistant," Miller says. "We put a tremendous amount of technology into the airplane."
The company produces G700s in the same Savannah Main Plant Campus that houses G650 and G650ER production and uses techniques introduced with the earlier jets.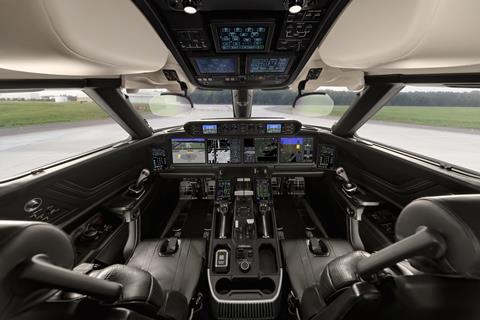 With the G650, Gulfstream replaced thousands of rivets with bonded stringers, and aerostructure suppliers adopted new induction-welding processes used to construct thermoplastic components.
The G700 has a composite and aluminium airframe, with composite horizontal stabilisers, pylons, engine nacelles and winglets, says Greg Collett, Gulfstream senior vice-president of manufacturing and completions.
Interior structures such as furniture and cabinets are made from honeycomb composites. The company performs large-jet completion work – which includes cabin installations – at its Savannah site and at company-owned facilities in Brunswick, Georgia; Appleton, in Wisconsin; and Long Beach, California.
Major G700 suppliers include Honeywell, which makes the avionics, touchscreens, auxiliary power units and environmental control and cabin-pressure systems. Collins Aerospace manufactures the jet's horizontal stabiliser trim actuators, power generation and landing-gear systems, while GKN unit Fokker produces the empennage, bonded-fuselage panels and floorboards.
GE provides the G700's health and trend monitoring system and electrical power distribution system. Meggitt makes the wheels and brakes, Nordam supplies wing-to-body fairings and main landing-gear doors, and Safran the fuel distribution system. Gulfstream now manufactures wings for most of its large jets, including the G700, having recently taken over that work from Triumph Group.
INTEGRATED PROCESS
A Gulfstream customer support specialist team has been deeply embedded in the G700's development and will play a central role in the aircraft's service entry, says Mitch Choquette, Gulfstream vice-president, customer support.
His department runs a 24/7 technical-support call centre – even supplier representatives are on hand – and has access to two G150s, which are ready at short notice to fly customer support missions. The company began enmeshing customer support staff with development teams as it brought to market the G650, and used the model in developing the G500 and G600.
"The 650 was a game-changer," says Choquette. "We recognised early on that getting someone that represents customer support in the design and engineering phase is very important."
The support team's broad goal is for the G700 to be "maintainable" from the day it enters service. That means ensuring that the aircraft's components are durable and easily accessible, that technicians understand how to repair the jet and that Gulfstream has the right tools on hand. Choquette's team has been involved "in all the design meetings" and has "an equal seat and voice, to share concerns".
Gulfstream will train two "core" customer support employees to be experts in the G700's systems and its "nuances", and will cycle customer service staff, including technical and field representatives, through G700-specific training.
Some staff will get the same flight-safety training the company offers to customers, including reviews of maintenance, engines, avionics and European Union Aviation Safety Agency maintenance licence requirements, which differ from FAA standards.
"When the airplane does go into service… those people have been exposed to it," Choquette says, noting that Gulfstream aims to be able to complete maintenance and part replacements within 30min.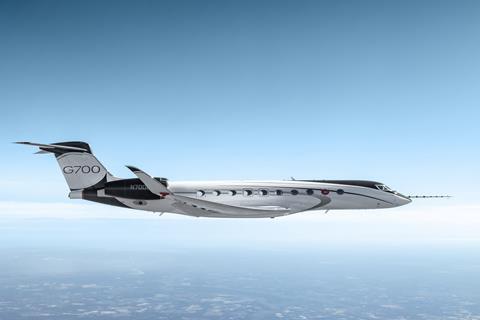 Customer-support staffers have use of G700 "iron birds" – physical replicas of the aircraft's systems that provide "the opportunity to exercise the airplane in the lab environment".
Gulfstream has also embedded technical operations experts and field service representatives with the G700 flight-test programme. Those employees will validate the jet's maintenance manual, develop "troubleshooting techniques" and document all maintenance equipment required for the G700.
A separate cabin systems team under Choquette's department is responsible for validating the quality of the G700's cabin and the cabin systems' performance. Those technicians and customer representatives participate in cabin reviews and flight tests.
The increasing sophistication of cabin technologies requires Gulfstream to have the specialised cabin division, Choquette says. "This is taken very seriously," he adds.
"The last thing you want to do is go out with an aircraft, the systems are not right, [and] you are not able to support it."
Choquette's team is developing a G700 "material strategy" that aims to ensure sufficient replacement components are available and in the right location, when the aircraft enters service. The company has completed about 85% of the work of compiling a "recommended spare parts list" that will eventually include some 1,400 unique items. About 80% of the G700's parts will be common to other Gulfstream models, with 20% being G700 specific.
Gulfstream has in recent years built up its service network to include facilities in Amsterdam, Appleton, Atlanta, Beijing, Brunswick, Dallas, Farnborough, Hong Kong, Long Beach, Palm Beach, Savannah, St Louis, Van Nuys, and Westfield.
Supporting deliveries is among the customer support team's most critical functions. Before handing over new aircraft, representatives travel to customers' facilities, where they review capabilities and expectations. Gulfstream sends three-strong support teams with aircraft during deliveries. They include a cabin systems specialist, customer operational readiness representative and entry-into-service (EIS) pilot.
The cabin specialists, who ensure customers understand the systems, and the operational-readiness representatives, who review the aircraft, its systems and paperwork, may stay for up to 10 days with customers. EIS pilots, who help customers transition to operating new jets, typically stay for around five.
"It helps [customers], and it helps us to make sure they are going to be successful," Choquette says.
Download a poster of the G700 cutaway below
Supporting documents
Click link to download and view these files