Honeywell Aerospace has unveiled a lightweight, low-maintenance cooling system for developers of urban air mobility (UAM) and electric aircraft, and has named the Eviation Alice as launch platform for the energy-efficient feature.
The company's micro vapor cycle system (MicroVCS) will be incorporated into the nine-seat, all-electric commuter aircraft in July, in preparation for the prototype's first flight later this year.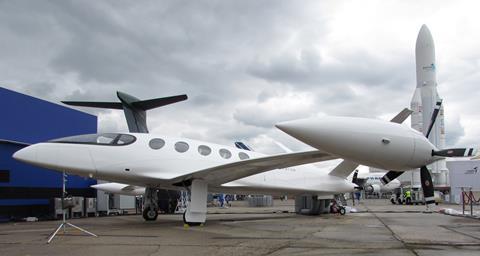 Honeywell describes the MicroVCS as a thermal management system that uses advanced technology "to generate cold air or liquid to cool cabins, electronic components and batteries".
The equipment is lighter than comparable vapour cycle systems, it says, "and completely oil-free, with fewer moving parts, so it needs virtually no maintenance over the life of the system".
Tom Hart, Honeywell Aerospace's vice-president and general manager for air and thermal systems, says aircraft in the emerging UAM and electric air taxi categories will need to be lightweight and avoid significant downtime for maintenance. "It will also be extremely important to maintain battery temperature and ensure passenger comfort", says Hart.
Eviation founder and chief executive Omer Bar-Yohay says "every ounce counts" in an all-electric aircraft, "so we needed an efficient way to provide cooling comfort for passengers without adding excessive weight".
The MicroVCS will "ensure better aircraft uptime and reduce our overall operating costs, while enhancing our passengers' experience", he adds.
The cooling system is the latest in a series of products Honeywell is developing specifically for UAM and electric aircraft. The line-up also includes a compact fly-by-wire flight control system, radar, actuators, and lightweight inertial navigation systems.
In mid-June, Honeywell announced that it is forming a new unmanned aerial systems (UAS) business unit to advance its ambitions in the fast-emerging UAS and UAM sectors. The division will have its own engineering and sales resources, and will offer aircraft systems, including avionics, hybrid and electric propulsion, technology, software, certification and services expertise.