Honeywell later this year plans to demonstrate a new, more-powerful turbo-generator designed for use on air taxis, cargo drones and hybrid-electric commercial aircraft.
The company revealed the project on 8 March, saying the system under development will create 1MW of power – about two-and-a-half times more than a turbo-generator Honeywell unveiled in 2019.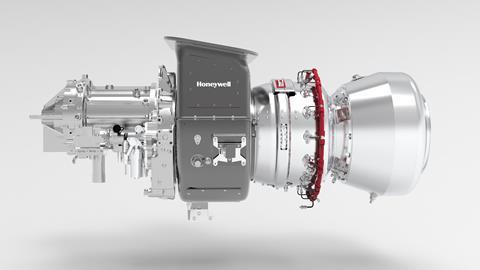 News of the project comes as Honeywell works with British start-up Faradair Aerospace to develop a turbo-generator for Faradair's in-development Bio Electric Hybrid Aircraft (BEHA).
Honeywell's new turbo-generator will consist of a 1MW generator that "weighs about the same as a motor scooter but deliveries enough energy to power an entire neighbourhood block", Honeywell says.
That generator will be mated with Honeywell's HGT1700 auxiliary power unit, which is found on Airbus A350s, to create the new turbo-generator, Honeywell says.
"Honeywell's turbo-generator can be used to operate high-power electric motors or charge batteries and can satisfy missions from heavy-lift cargo drones to air taxis or commuter aircraft," Honeywell says.
"There is an inherent need for electric and hybrid-electric power as the urban air mobility segment takes shape and unmanned aerial vehicles enter service," says Honeywell vice-president and general manager for unmanned aerial systems and urban air mobility Stephane Fymat.
The company notes that many new air taxi designs have multiple electric motors that are powered through a "distributed electric propulsion architecture".
"A Honeywell turbo-generator can provide electric power for multiple electric motors anywhere on an aircraft," Honeywell says. The turbo-generators will also be capable of burning biofuel.
Honeywell had previously developed a turbo-generator for the urban air mobility market (UAM) that would generate 400kW of power. That system, which Honeywell unveiled in March 2019 at the HAI Heli-Expo helicopter convention, involved two 200kw generators mated with Honeywell's HTS900 turboshaft helicopter engine.
In December 2020, Honeywell partnered with Faradair to supply the BEHA programme with turbo-generators, avionics and flight-control systems. Faradair has selected Magnix to provide the Magni500 electric motors that will power the aircraft.
Faradair aims to fly BEHA by 2024 and to have up to 300 of the aircraft in service by 2030.