Eviation Aircraft has received the first electric propulsion unit (EPU) for its in-development all-electric passenger aircraft Alice, and still aims to have Alice airborne by year-end.
Israel-based Eviation received the unit, made by electric-propulsion specialist Magnix, at its Arlington, Washington facility in the USA.
The deliver is a "major milestone in the build of Alice as it prepares for first fight later this year", Eviation says on 13 May. "Eviation will soon begin a robust flight testing and certification programme."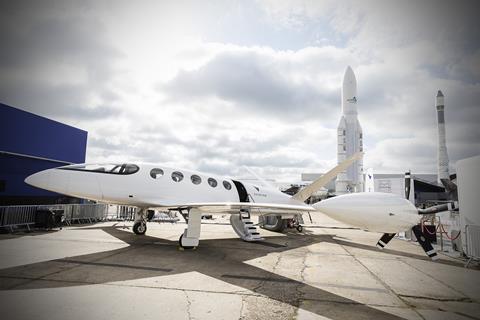 Eviation notes that Alice "will be powered exclusively by Magnix propulsion systems" – a change from the past.
In 2019, Eviation said it would offer two power options for Alice: one made by Siemens, the other by Magnix.
At that time, Eviation chief executive Omer Bar-Yohay said two options would head off "potential supply chain issues" and give customers "broader choice of price points and maintenance schedules".
The Magnix EPU consists of "the full propulsion system", says an Eviation spokesperson, without elaborating.
That propulsion system, as previously reported, will be Magnix's 375shp (280kW) Magni250. In 2019, Magnix said Alice would be powered by triple Magni250s, though Eviation has since tweaked Alice's design. Magnix is based in Everett, Washington.
"The flight-proven Magnix EPUs have been powering aircraft in flight since December of 2019 and are on a path to FAA Part 33 certification in 2022," says Eviation. "The EPUs offer an exceptional level of redundancy and reliability with consistent performance."
US Part 33 regulations define airworthiness standards for aircraft engines.
Eviation advertises Alice as a nine-passenger, two-crew aircraft that will have 440nm (815km) range, cruise speed of 220kt (407km/h) and altitude ceiling of 32,000ft.
Eviation had expected Alice to fly in 2020, but that milestone has been delayed. In January 2020, an Alice prototype was heavily damaged by a fire involving lithium-ion batteries.
The fire ignited on the ground at Prescott Regional airport in Arizona after hours of powerplant testing, according to local fire department reports. An FAA document said a battery "exploded".
Eviation's prototype, as publicly revealed, has three propellers – one on the end of each wing and one at the rear of the fuselage – and a V-shaped tail.
But in December last year, CEO Bar-Yohay said Eviation had made "a few minor modifications" to Alice, resulting in an aircraft "slightly different than" the previous prototype. He predicted Alice would enter service in 2023.
Eviation has not specified what changes it has made.
But in January, FlightGlobal obtained an image of what appears to be a tweaked version of Alice's design. The image shows an aircraft with a T-tail, clean wings and only two props – one on each side of the aft fuselage.
Magnix has recently progressed with development and certification of its electric propulsion systems.
In December 2019, Canadian regional airline Harbour Air flew a De Havilland Canada DHC-2 Beaver powered by a 751shp Magni500. Then, in May 2020, Magnix and certification shop AeroTEC flew a Cessna 208B Grand Caravan powered by that motor.
Magnix is also working to convert Caravans to electric power via a project with Australian airline Sydney Seaplanes.
Additionally, hydrogen-development company Universal Hydrogen has said Magnix will supply it with an electric power system for a modified Dash 8-300 turboprop. Universal Hydrogen is converting the aircraft to have hydrogen power.