Eviation Aircraft confirms it has significantly shifted the design of its in-development Alice all-electric aircraft, and says it remains on track for a first flight this year.
The aircraft developer, based in Washington state, also says the nine-passenger Alice will have more powerful Magnix-made propulsion systems than previously planned.
Additionally, figures from Eviation's website show the company has in recent years tweaked Alice's advertised capabilities, shaving some 100nm (185km) off its range.
Eviation on 1 July released an image showing its latest design iteration for Alice. The new configuration has two electric motors and propellers – one mounted on each side of the aircraft's fuselage. It also has T-tail and clean wings with small upturned tips, the artist's impression shows.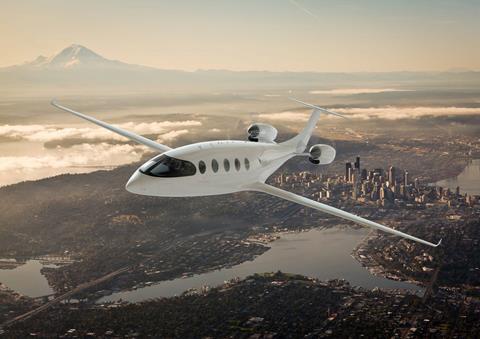 As previously designed, Alice had a V-tail and three electric motors – one on each wing-tip and a third mounted at the rear of the fuselage behind the tail. That was the configuration of the prototype Eviation displayed at the 2019 Paris air show.
"The production configuration, optimised based on real-world lessons learned and customer feedback, defines Alice's path to certification and entry into service, expected in 2024," Eviation says. The aircraft "is on track for first flight later this year".
Changing from a V-tail to a T-tail will "optimise performance and handling, making it easy and reliable for pilots to seamlessly transition to flying the aircraft".
The updated design "represents a final step in our iterative journey toward Alice's first flight", adds Eviation chief executive Omer Bar-Yohay.
Eviation also confirms Alice will use two of Magnix's 850hp (634kW) Magni650 electric powerplants, rather than three 375hp Magni250s. In June Magnix said it was replacing the Magni250 and another previous model, the 750hp Magni500, with two new derivatives: the 469hp Magni350 and the Magni650.
The design changes were not unexpected. In December 2020, Bar-Yohay said Eviation had made "a few minor modifications" to Alice, resulting in a design "slightly different than what you've seen at the Paris air show".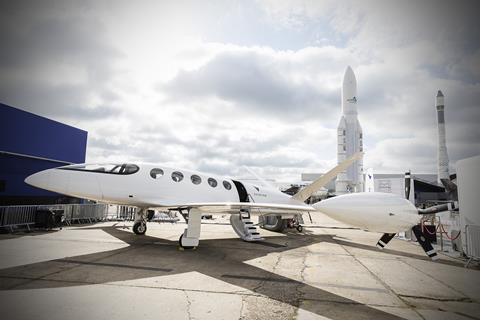 Alice is to be a nine-passenger, two-crew commuter or private aircraft. In 2019, the developer named US regional airline Cape Air as Alice's launch customer.
Figures on Eviation's website reveal the company has tweaked Alice's advertised performance in recent years.
The website now says Alice will cruise at 220kt (407km/h) and have 440nm range, with power coming from an 820kWh lithium-ion battery system weighing 3,720kg (8,200lb).
Previously, Eviation has said Alice would cruise at 240kt, and have 540nm range and 920kWh battery system weighing 3,600kg.
As currently designed, Alice will be 17.1m (56.1ft) long, 3.8m high and have an 18m wingspan. Alice has previously been reported as being 13.2m long, 4.2m high and have a 16.1m wingspan. Eviation has seemingly upped Alice's advertised maximum take-off weight from 6,350kg to 6,668kg.
When Eviation changed the figures remains unclear.
The company tells FlightGlobal that the performance modifications "are a result of several design lessons learned and an adaptation to the needs of our clients, focusing on cabin and baggage compartment volume, passenger comfort and compliance with the safety guidelines of the FAA".
Alice will have an altitude ceiling of 32,000ft and maximum payload of 1,134kg, Eviation says. The aircraft will have a composite-material fuselage and Honeywell-made fly-by-wire flight-control system.
Eviation's latest image confirms the accuracy of a separate rendering published by FlightGlobal in January and obtained from an unnamed source who said the image showed design changes to Alice.
Eviation had previously hoped for Alice to make first flight in 2020, but that milestone slipped. In January 2020, a fire damaged an Alice prototype on the ground in Prescott, Arizona, where Eviation and partner Magnix were performing tests. The fire involved lithium-ion batteries and occurred after hours of powerplant testing, according to US and local government reports.
Eviation's decision to eliminate wing-tip-mounted propellers could reflect challenges with that design. Such a configuration can reduce drag-causing vortices and deliver improved propulsive efficiency, according to 2017 NASA research paper. But placing motors on an aircraft's wingtips risks instability, as failures can cause "a large yaw moment due to asymmetric thrust", NASA said.
Story corrected on 1 July 2020 to note that Eviation is now based in the US state of Washington, not in Israel.