Electric aircraft developer Eviation has revealed an executive variant of its in-development Alice featuring seating for six passengers, a galley and a lavatory.
The US-based company disclosed cabin details, along with images, on 10 December, calling the interior "luxurious and spacious".
Eviation chief executive Omer Bar-Yohay had the previous day posted to social media a picture of a largely complete Alice prototype in a new aft-prop configuration.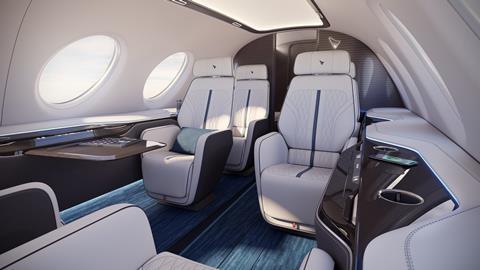 Eviation has aimed to perform the first flight of Alice by year-end.
Outfitted as an executive transport, Alice's cabin can accommodate six "wide, elegant" seats and a "fully equipped galley, plus a lavatory and sink". Cabin windows, which Eviation calls the "largest in class", are 56cm (22in) high by 42cm wide, and the cabin is 1.9m across, Eviation says.
Eviation, based in Arlington, Washington, also gave the executive variant's cabin a wardrobe, and a baggage compartment with 2.8cb m (100cb ft) of volume – enough space for skis, golf clubs or bicycles, Eviation says.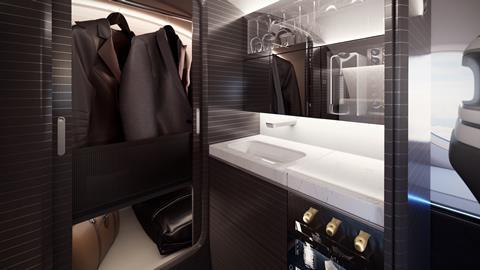 The cabin will be significantly quieter than competing turbine-powered aircraft, it adds.
Eviation has for several years been developing the all-electric Alice, which it has pitched in commuter, executive and cargo configurations.
Alice will have 440nm (815km) of range, 1,134kg (2,500lb) of payload and maximum cruise speed of 250kt (463km/h). Maximum take-off weight is pegged at 7,484kg.
US regional airline Cape Air is an early customer of the commuter variant, which Eviation says will have nine seats. The Alice freighter will have 12.7cb m of cargo volume, it says.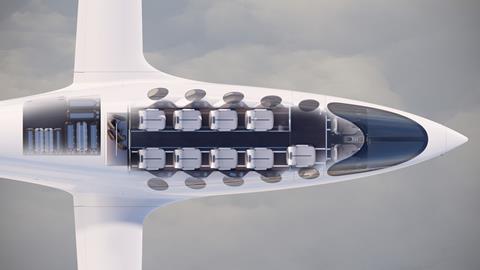 Eviation has made several recent design tweaks to Alice. This year, it confirmed the aircraft will have twin Magnix Magni650 electric propulsion systems, each rated at 640kW. The motors will be mounted on the sides of the aft fuselage.
In 2019, Eviation had said power would come from three 375hp Magni250s – one mounted to the fuselage aft of the tail, and one each mounted on each wing-tip. The change followed news in June that Magnix was replacing its Magni250 and Magni500 with two larger motors, the Magni350 and Magni650.
Eviation also tweaked Alice's tail from a V design to a more traditional T-tail.