Eviation's in-development all-electric aircraft completed a low-speed taxi run in recent days, marking what Eviation calls another step leading toward the prototype's first flight.
The company's chief executive Omer Bar-Yohay on 18 December posted to Twitter a video of the aircraft – called Alice – taxiing at Arlington Municipal airport in Arlington, Washington, where Eviation is based.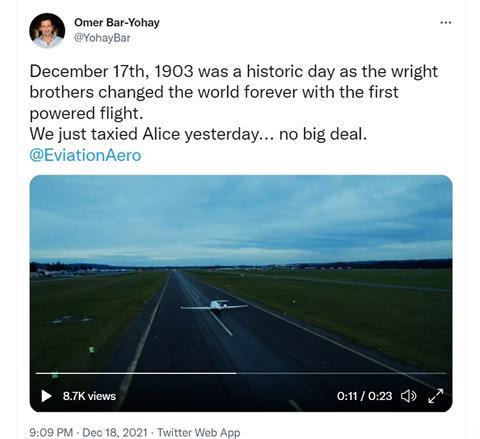 Eviation has previously said it intends to fly Alice for the first time before year-end. Time is quickly running out.
In his tweet, Bar-Yohay said the taxiing happened on 17 December – the same date that the Wright brothers first flew the Wright Flyer in 1903.
"We just taxied Alice yesterday… No big deal," says the tweet. Bar-Yohay posted the same message and video to LinkedIn.com.
The 23-second clip shows twin-motored Alice taxing slowly along the tarmac. The video says, "More to come."
Asked for more information, Eviation says, "Alice completed low-speed taxi – another step on the path to first flight. We will share additional information as it is available."
The company confirms the taxi run occurred at Arlington Municipal, but declines to provide more details. It is unclear if Alice has previously completed any taxi runs.
Eviation has been working discretely on Alice for several years, and details about the project's progress have been sparse.
In July, the company disclosed it had made design changes to the prototype that included transitioning from three propellers (one on each wing and one at the aft centre fuselage) to only two props (one mounted on each side of the aft fuselage). Eviation also changed Alice from having a V-tail to having a T-tail.
This month, Bar-Yohay posted to social media a picture showing a prototype with the updated configuration in a hangar. On 10 December, the company released images of, and details about, Alice's cabin in a six-passenger executive-aircraft configuration.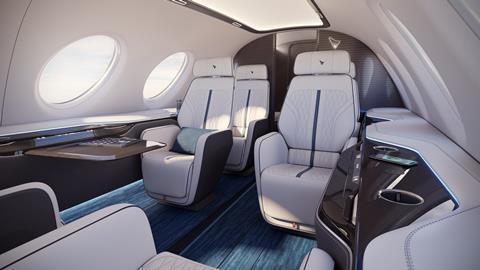 Eviation is also offering Alice as a nine-passenger commuter aircraft and as a cargo aircraft. Cape Air is launch customer for the commuter, and DHL has ordered the freighter.
Alice will have 440nm (815km) of range, 1,134kg (2,500lb) of payload and maximum cruise speed of 250kt (463km/h). Maximum take-off weight is pegged at 7,484kg, according to Eviation.