Indonesia has reaffirmed its commitment to the Korea Aerospace Industries KF-21/IF-X programme, in which it is a junior partner to South Korea.
During a meeting with South Korean officials on 7 February, Indonesia's deputy defence minister Wamenhan Herinda stated that Jakarta has a "big commitment" to the joint programme, according to Indonesia's defence ministry.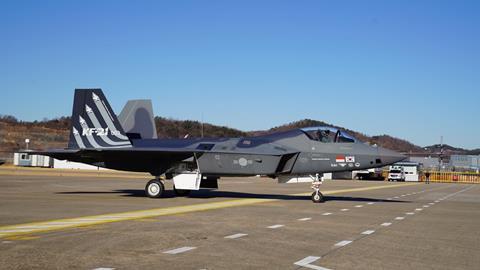 He said that Jakarta views the KF-21/I-FX programme as a strategic opportunity to "master high technology in the defence industry".
Herinda made the remarks to Han Kyuung-ho, the deputy minister for advanced capabilities at South Korea's Defense Acquisition Program Administration (DAPA).
Herindra observed that in addition to making payments related to Jakarta's 20% share of the W8.8 tillion ($7 billion) programme in 2022, state airframer Indonesian Aerospace (also known as PTDI) dispatched 37 engineers and two test pilots to South Korea.
The defence ministry did not state how much money Indonesia paid in 2022, but funding has been a contentious issue between the two partners for several years. In November 2022, South Korea's Yonhap news agency reported that Indonesia had resumed paying its share of the programme with a W9.4 billion payment.
Two months earlier, DAPA had indicated that the two sides had reached an agreement on funding, whereby Jakarta would pay 30% of its share via "in-kind payments". At the time, South Korean media suggested Jakarta was W800 billion in arrears.
In addition, Indonesia's defence ministry supports the "re-establishment" of a joint programme office for the effort. Ultimately, Jakarta hopes to gain the ability to produce components such as the wing, tail and pylons, as well as conduct final assembly locally.
South Korea is expected to operate 120 KF-21s and Indonesia 50. The type is powered by two GE Aerospace F414 engines.
KF-21 flight tests are underway in South Korea. The third of six protypes joined the test fleet in January. The type is expected to enter South Korean service in 2026.
Corrected: A previous version of this story incorrectly stated that flight tests are underway in Jakarta. Flight tests are only underway in South Korea.