The developmental Korea Aerospace Industries (KAI) KF-21 fighter has attained 'provisional suitability for combat', as the fifth prototype conducts its maiden sortie.
The fighter's provisional combat status, announced by Defence Acquisition Program Administration (DAPA) director Eom Dong-hwan, is necessary for mass production to commence next year.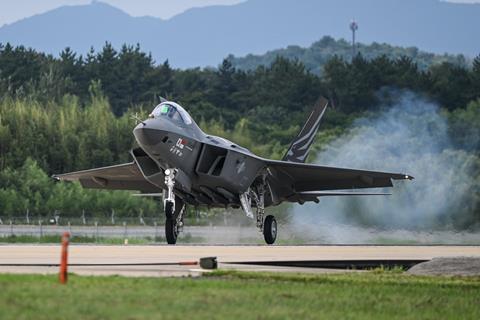 DAPA notes that since the roll-out of the first prototype in April 2021, ground tests and flight tests have proceeded in tandem – the fighter had its maiden sortie in July 2022.
Ground testing and about 200 flight tests have verified about 260 test points, including aircraft speed, combat radius, and landing distances. Avionics including the fighter's locally developed active electronically scanned array (AESA) radar have also been assessed, as have air-to-air weapons.
Test work will continue focusing on avionics, air-to-air refuelling, and electronic warfare. Further air-to-air weapons work will also be undertaken.
DAPA reiterates that the fighter will be delivered to the Republic of Korea Air Force in the second half of 2026, consistent with original delivery plans for the programme.
DAPA also announced that the fifth KF-21 prototype has conducted its maiden flight from Sacheon and conducted a 45-minute flight over the East China Sea. The fifth KF-21 will focus on avionics work including the AESA radar. It will also be used for air-to-air refuelling tests in the second half of 2021.
In all, the KF-21 programme will have six prototypes. The first, second, third and fifth prototypes are single seaters, while the fourth and six prototypes have two seats.
The sixth prototype is expected to conduct its maiden flight in June.