Indonesia will acquire 12 Dassault Mirage 2000-5 fighters from Qatar in a deal that values the secondhand jets at €733 million ($793 million).
Media reports cite a defence ministry statement as saying that a contract was signed in January, with the deal brokered by Excalibur International, a unit of Czechoslovak Group.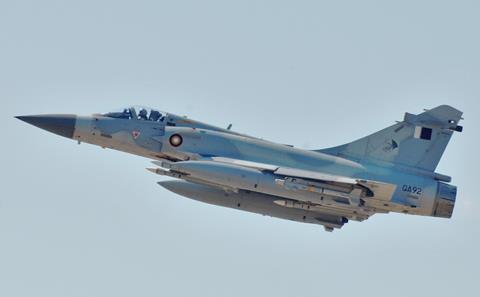 The aircraft, nine single-seaters and three two-seaters, are supposed to arrive by January 2025.
The defence ministry attributes the decision to filling a capability gap in Indonesia's air force, and confirmed the previously unnannounced deal in response to lawmakers' concerns about the age of the Mirages.
Cirium fleets data indicates that Qatar operates 12 Mirage 2000-5s with an average age of 25.1 years.
Indonesia's air force operates 79 aircraft in combat roles, with an average aircraft age of 23 years.
The mainstay of this fleet are 25 Lockheed Martin F-16A/Cs, some of which have received airframe and avionics upgrades. The average age of the F-16 fleet is 36.2 years.
Jakarta also operates five Sukhoi Su-27s and 11 Su-30MK2s, the average age of which is 13.8 years.
The rest of its combat fleet caters to the ground attack mission, comprising 23 BAE Systems Hawk 209s, and 15 Embraer EMB-314 Super Tucano turboprops.
In February 2022, Jakarta placed an order for 42 Dassault Rafales, with deliveries to commence in 2026.
Indonesia could also obtain the Boeing F-15ID, the local designation for the F-15EX. In February 2022, shortly after Jakarta announced the Rafale deal, the US government cleared the possible sale of 36 F-15IDs to Indonesia for $13.9 billion.
In November 2022 Reuters reported that an F-15ID decision was well advanced, following a visit by US defense secretary Lloyd Austin to Indonesia.
Jakarta had long been interested in obtaining the Su-35 but balked on concerns about US sanctions being imposed should it acquire Russian equipment.
Indonesia is also the junior partner in the Korea Aerospace Industries KF-21/I-FX programme. Ultimately, Indonesia could operate 50 examples of the South Korean type.