The Korean Air Aerospace Division (KAL-ASD) will bid to be the main contractor in South Korea's second Baekdu signals intelligence (SIGINT) aircraft programme.
Korean Air says it has already signed a purchase agreement with Dassault Aviation "to speed up preparations for the project", which will see the provision of four new SIGINT aircraft.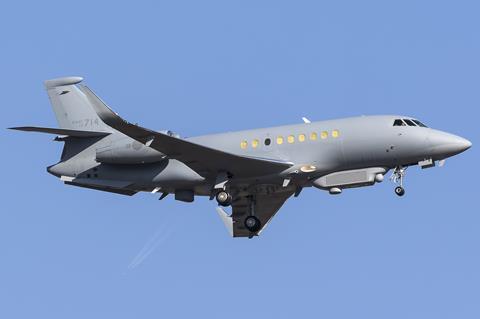 Korean Air did not specify the aircraft type, but the first Baekdu project saw a pair of Falcon 2000S business jets modified into SIGINT aircraft, using intelligence collection and transmission systems developed by local firms LIG Nex1 and Hanwha Systems. The type is designated RC-2000 in Republic of Korea Air Force (ROKAF) service.
The second Baekdu deal, to be contracted by South Korea's Defense Acquisition Program Administration (DAPA), is valued at W870 billion ($768 million) and will run from 2022-2026.
It will see four new aircraft replace older Baekdu aircraft. Korean Air says that the ROKAF operates six Hawker HS125 business jets – designated RC-800 – in the SIGINT/Baekdu role.
KAL-ASD's first Baekdu project to furnish the two RC-2000s was valued at W400 billion and ran from 2011 to 2018.
"During the first project, Korean Air carried out key tasks, such as aircraft modification, integrated logistics support, airworthiness certification and test flights," says the company.
"Using the technology and expertise acquired through creating the first new Baekdu aircraft with L-3, a U.S. defence company, Korean Air succeeded in building the second aircraft by itself."
The primary mission for the ROKAF's Baekdu aircraft is monitoring communication in North Korea. Baekdu aircraft also have the ability to detect the infrared signatures of ballistic missile launches.
The aircraft are named "Baekdu", says Korean Air, because their coverage reaches Mt. Baekdu, in the far Northeast of North Korea.