South Korea will fund the indigenous development of an attack helicopter to support amphibious attacks, and aims to replace its fleet of ageing Boeing CH-47D Chinooks.
Seoul will spend W450 billion ($376 million) on a "Amphibious Attack Helicopter Project" through domestic research and development, said South Korea's Defense Acquisition Program Administration (DAPA) on 27 December 2021.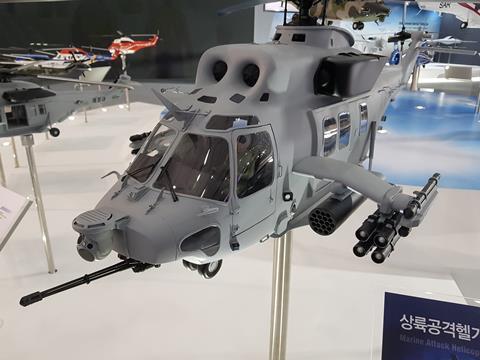 The programme will run from 2022-2026, to create a helicopter that can "cover aerial assault forces and reinforce the air firepower support capabilities of ground combat units during amphibious operations".
In addition, the programme is envisaged as boosting the country's technological base and creating jobs.
In April 2021, DAPA had said that W1.6 trillion would be spent developing and fielding an indigenous attack helicopter for South Korea's marines, with the programme to run until 2031.
South Korea's marines had been in the market for 24 attack helicopters capable of operating from the navy's pair of Dokdo-class amphibious assault ships.
South Korea's Yonhap news agency has reported that the new attack helicopter will be based on the Korea Aerospace Industries (KAI) KUH-1 Surion utility helicopter. The type already has a marine variant, the MUH-1 Marineon. KAI promoted armed versions of the rotorcraft at the 2019 and 2021 iterations of the Seoul ADEX Defense Show.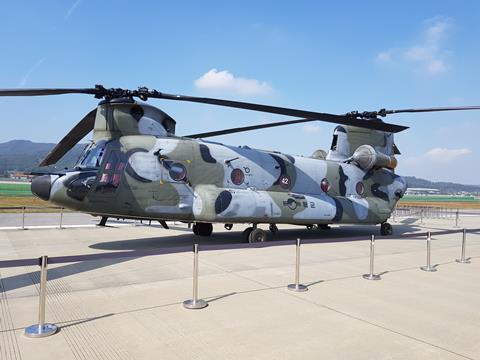 DAPA will also tap the international market to replace the Korean army's CH-47Ds. This programme will run from 2022-2028, and carry a cost of W1.4 trillion.
Cirium fleets data shows that the South Korean army operates 34 CH-47Ds, with an average age of 37.2 years. In the 2010s Seoul considered upgrading these rotorcraft, but subsequently decided it would be cheaper to replace them.
The Chinook replacement could see a major competition, likely drawing interest from Boeing with the CH-47F and Sikorsky with CH-53K King Stallion.
In addition, DAPA plans to develop an unmanned air vehicle that can operate from destroyers. This project will run from 2023-2031, and bear a development cost of W570 billion.