Leonardo has secured initial certification for its M-345, edging the jet trainer closer to service introduction with the Italian air force.
Announcing the development on 8 May, the airframer said approval from Italy's Directorate for Air Armaments and Airworthiness had been received following "intense in-flight and on-ground test activities" totalling almost 200 sorties.
Conducted according to European Military Airworthiness Requirements rules, the process also involved the type's launch customer on aspects such as "assessing aircraft and equipment compliance with stringent performance and safety standards", it says.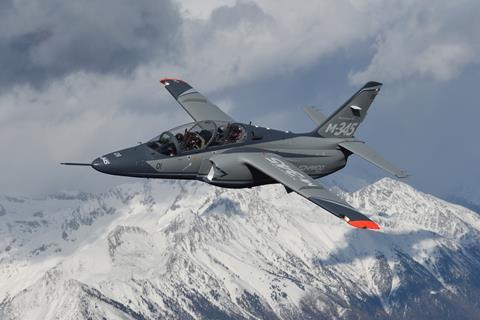 Leonardo Aircraft managing director Lucio Valerio Cioffi notes that the M-345 test campaign was a "full national effort", and one which "confirms [that] the aircraft features excellent characteristics and capabilities, and makes it available for the international market".
A first production example of the M-345 was displayed at last June's Paris air show, shortly after Italy increased its firm orders for the type from five to 18 units. Rome also has an option to acquire a further 27 examples of the Williams International FJ44-4M-34-powered aircraft under current plans.
The Italian air force will operate the new model as the T-345A in the basic training role and for some elements of advanced instruction. It also intends to use it to replace the Aermacchi MB-339s flown by its Frecce Tricolori aerobatic display team.
Leonardo says the M-345 will deliver "a significant improvement in training effectiveness, greater efficiency and a strong operating cost reduction" versus the MB-339 and other legacy types. The design is capable of operating at up to 40,000ft, and of achieving a maximum speed of 425kt (786km/h) at medium altitude.
The manufacturer has previously touted the M-345's suitability for use by African customers, pointing to its claimed turboprop-type costs. However, two other previously discussed sales targets for the model – France and Spain – both opted to acquire the Pilatus PC-21 turboprop.