The US Navy (USN) has begun its search for a new jet trainer to replace its Boeing T-45 Goshawk fleet.
As part of its new Undergraduate Jet Training System programme, the service wants a nondevelopmental, land-based jet trainer capable of field carrier landing practice and nuclear aircraft carrier touch-and-go landings by 2028 or sooner, according to a request for information posted online on 14 May.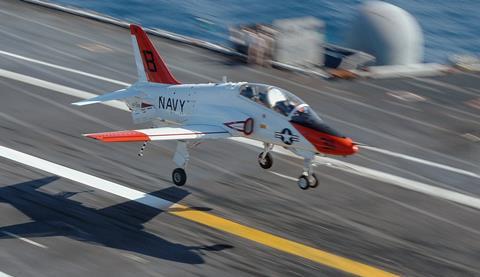 The service wants a two-pilot aircraft with ejection seats. The jet should be able to be flown from either cockpit.
The USN is interested in knowing what aircraft can integrate advanced technologies, such as Precision Landing Mode, which is used to help land the Boeing F/A-18E/F Super Hornet on aircraft carriers. It also wants the trainer to have an automatic ground collision avoidance system.
The service wants an assessment of how certain aircraft would handle the forces of high sink rate landings, the hallmark of training for landing on the short deck of an aircraft carrier.
Each example of the next-generation trainer is expected to fly 400h per year. The USN wants to conduct field carrier landing practices at an annual rate of 1,200 per aircraft. It also wants each trainer to perform carrier touch-and-go landings 45 times per year.
Candidate aircraft should have a flight life of at least 14,400h, and be able to sustain 43,200 landings.
The service does not plan to conduct arrested landings or catapult launches from aircraft carriers using the jet trainer. That approach differs from its current T-45 fleet, which conducts carrier landings and launches.
The aircraft should have an operational ceiling of 41,000ft, and be capable of speeds greater than 600kt (1,110km/h).
Likely competitors in the USN's next generation trainer programme include the Boeing-Saab T-7A, which won the US Air Force's T-X competition; Lockheed Martin's T-50A, based on the FA-50 light-attack/trainer developed with Korea Aerospace Industries; and Leonardo's T-100, based on the company's M-346.
The T-45 is a variant of the 1970s-era British Aerospace Hawk, developed jointly for the USN by McDonnell Douglas and the UK company. Boeing acquired the programme in 1997 when it merged with McDonnell Douglas.
Cirium fleets data shows that the navy currently operates a 194-strong Goshawk inventory, with its aircraft aged between 10 and 31 years.