GE Aerospace succeeded in ramping engine deliveries in the first quarter of 2023, a period during which it also logged notable gains in revenue and profit.
Still, GE Aerospace chief executive Larry Culp says the Ohio-based engine maker remains hampered by supply chain troubles that are causing material shortages.
"In the supply chain, we saw areas of improvement," Culp said during parent General Electric's first-quarter earnings call on 25 April. "However, output continued to be impacted by material availability and supplier changes, particularly in defence."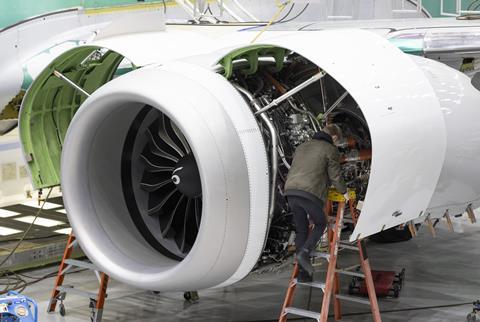 Commercial engine deliveries in the first quarter rose 40% to 481 units, against 343 a year earlier, and include 366 CFM International Leap turbofans, up 53% on the same period of 2022.
GE Aerospace and Safran Aircraft Engines co-own CFM, which has been under immense pressure to boost Leap output. The engines power some Airbus A320neo-family jets and all Boeing 737 Max aircraft.
Both airframers have struggled to meet their delivery goals in part due to a shortage of engines.
CFM competitor Pratt & Whitney faces similar pressure to boost shipments of PW1000G-seres geared turbofans, which power Embraer E-Jet E2s, A220s and are an option on the A320neo.
GE Aerospace's financial performance also improved during the first quarter. It turned a $1.3 billion profit in the period, up 46% year on year, with revenue rising 25% to $7 billion.
Culp, also CEO of General Electric, notes that GE Aerospace's engine aftermarket business remains a bright spot, generating some 60% of first-quarter revenues.