GE Aerospace is tweaking some components in CFM International Leap turbofans to address operating issues primarily affecting commercial jets flying in India and the Middle East.
Harsh environmental conditions – notably the prevalence of dust and sand – in those places have long created engine-durability headaches for airlines and engine makers.
"As it stands today, Leap has a shortfall in time-on-wing, particularly in the Middle East and India," GE Aerospace vice-president of engineering Mohamed Ali said during parent GE's investor conference near Cincinnati on 9 March.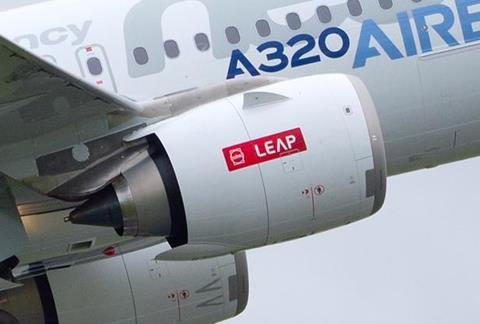 "We have tested the improvements to those parts, and we are excited about the performance they are showing," Ali says.
The Leap "durability" problems affect a "small handful of components", including fuel nozzles and high-pressure turbine blades and nozzles, he adds.
GE Aerospace has been flight testing the improved Leap fuel nozzle since early 2022, and it plans to ramp production of those parts this year and next.
Meanwhile, the tweaks to Leap high-pressure turbine blades and nozzles are "progressing through validation", it says. The company aims to ramp production of those improved components in 2024 and 2025.
GE Aerospace and Safran Aircraft Engines co-own CFM, which provides Leap-1A turbofans for Airbus A320neo-family jets, and Leap-1Bs for Boeing's 737 Max.
On 17 February, Safran chief executive Olivier Andries conceded that Leaps "are suffering a lot in harsh conditions, especially the Gulf and India". The issues have driven up the need for engine maintenance, he added.
In 2022, EASA issued airworthiness directives requiring inspections of high-pressure turbine rotor blades, citing "cracked" parts on engines operated in the Middle East and North Africa.
Ali says GE Aerospace intends to update all Leap turbofans with some of the durability improvements now under development, while others "are only intended" for jets operating in the Middle East.
Chief financial officer Rahul Ghai calls the modifications "quick fixes" that will not significantly drive up costs.
GE Aerospace has previously addressed dust and sand durability issues with modifications to the 787's GEnx and the 777's GE90. Specific to the GE90, the company developed improved shrouds, nozzles, blades and combustor linings, GE Aerospace says.
Such work has given the engine maker a "head start" in addressing similar durability issues affecting the Leap, Ali says. "These are small tweaks that make s big difference.
He notes that the company uses technology "to simulate the effect of dust in the Middle East".
Despite such issues, GE Aerospace says Leap engines have been more reliable, at "comparable ages", to the CFM56, which powers earlier-generation A320s and 737s.