Executives at some aerospace companies clashed on 29 March about which technologies can best help wean the sector off its reliance on fossil fuels.
Such dissent became evident during a Senate hearing, when witnesses presented differing opinions about the feasibility and practicality of technologies like sustainable aviation fuel (SAF) and hydrogen propulsion.
"We believe that sustainable aviation fuel will be very large part of getting the whole aviation industry to net-zero flight by 2050," GE Aerospace advanced technology leader Arjan Hegeman tells the Senate committee.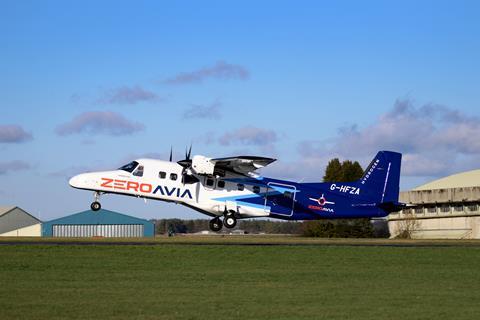 But Val Miftakhov, chief executive of hydrogen-fuel-cell propulsion specialist ZeroAvia, pushes back.
"Sustainable aviation fuels… do not eliminate carbon emissions in flight, nor do they significantly reduce other noxious and climate-warming emissions," he says in prepared testimony. "These non-CO2 emissions, as well as contrails, are known to have a multiplier effect on climate change."
The hearing comes as aerospace players and some lawmakers seek more US government funding for technologies to reduce the aviation sector's carbon output. But such disagreement highlights both the the scope of the challenge and the degree of uncertainty about whether the industry stands a chance of achieving a goal of achieving net-zero carbon emissions by 2050.
Lawmakers are now considering provisions to include in the Federal Aviation Administration's next funding bill. The agency's existing funding runs through September.
"Congress needs to enhance research partnerships between the FAA and NASA to share expertise on new aviation technologies," says Senator Maria Cantwell, chair of the Senate Transportation Committee. She calls for tripling government aid to an FAA technology development effort called the "Continuous Lower Energy, Emissions and Noise" (CLEEN) programme.
President Joe Biden has already made the US government a major funding source for new aviation technologies. A 2021 infrastructure bill earmarked $1 billion to fund "clean" hydrogen development, and the 2022 Inflation Reduction Act set aside $245 million for SAF production.
Not everyone supports such involvement.
During the 29 March hearing, Ben Lieberman, senior fellow at nonprofit Competitive Enterprise Institute, tells lawmakers that roaring support for SAF reminds him of similar "exuberance" in the early 2000s over "cellulosic biofuels".
The US government widely subsidised that fuel, which is made from plant waste.
"The federal government went all out… in favour of cellulosic biofuels," Lieberman says. "And now, 15 years later, we can say with certainty that it was all a failure."
"Nobody was able to produce commercially viable quantities, and in fact nobody really came close," he adds. "I am leery of the some of the similar provisions for sustainable aviation fuels."
Others have raised concerns about SAF, citing high costs and limited supply, and warning that SAF production – which depends largely on converting crops into fuel – could drive up global food prices.
During the hearing, Universal Hydrogen co-founder Jon Gordon said SAF is "expensive to produce and emits the same amount of carbon as jet fuel".
He insists the aerospace industry so vigorously backs SAF simply because existing engines can burn it.
"Large aerospace companies are invested in not having to change their engines or operations," he says. "That is why the aviation status quo is so supportive of SAF."
Universal is also developing a hydrogen-fuel cell powerplant, which it recently flight tested on a modified De Havilland Canada Dash 8. Gordon calls fuel cells a "zero-emission" technology and urges the US government to better support hydrogen-propulsion development.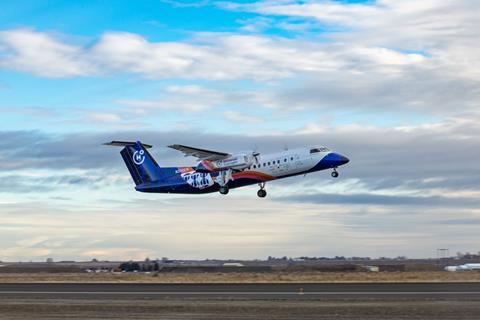 "We don't want the government to [pick] technological favourites," adds ZeroAvia's Miftakhov.
But GE Aerospace's Hegeman tells the committee hydrogen propulsion is not ready for prime time.
"New concepts like hydrogen fuel cells and hydrogen combustion present both new opportunities and new challenges that will require investment to ensure US leadership in these emerging technologies," Hegeman's written testimony says. "Scaling these new revolutionary technologies will also likely require new manufacturing methods and skill sets."
Airbus and Embraer are likewise studying hydrogen-powered aircraft. But Boeing has been an outsider, with an executives expressing doubt that hydrogen-powered airliners will be viable in the near future.
Some aerospace analysts agree, saying hydrogen takes up far more space than jet fuel and citing the exorbitant expense of developing a wholly new class of aircraft.