General Electric chief executive Larry Culp still expects engine maker GE Aerospace to expand into new aerospace segments following a reorganisation expected to wrap up next year.
"A wider aperture – for sure," Culp said on 9 March, responding to a question about potential new aviation markets for GE Aerospace. "As we become a standalone public company, there are going to be a lot of things that we're going to look at, [that] we're going to consider."
Culp made his comments during a GE investor event near Cincinnati. He declines to name any segments or products in which GE Aerospace might have interest.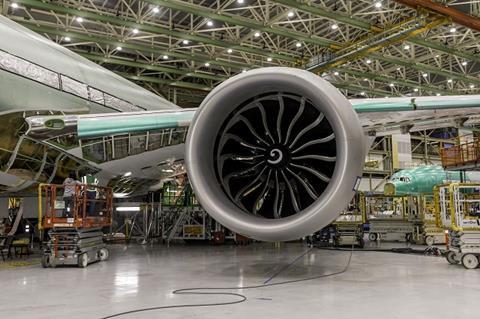 "I have… been intentionally circumspect with defining that wider aperture," says Culp, who is also GE Aerospace CEO. "We're not going to… foreshadow that."
GE is partway through a reoganisation that involves shedding two non-aviation businesses, leaving GE Aerospace as its sole surviving entity.
The company spun off GE HealthCare Technologies into a standalone public company on 3 January, and plans in early 2024 to divest energy unit GE Vernova.
Culp has previously hinted at possible expansion by GE Aerospace, saying in July 2022 that, in a decade, "we may be in some businesses that we are not in today".
On 9 March, Culp noted he had worked 25 years at a "highly-acquisitive company" – Danaher, a technology firm that owns more than 20 companies, according to its website.
"We never, ever foreshadowed what we might be looking at," Culp says, citing "a big sandbox" of opportunity.
He clarifies, however, that GE Aerospace will not "just try to amass assets… We really want to shape the future of flight here, and if there are additional assets that might come to us organically, we might consider that."