US engine manufacturer Pratt & Whitney has started work related to certification of the GTF Advantage – a more efficient variant of the company's PW1100G geared turbofan.
P&W is performing "extensive endurance testing to ensure product maturity at entry into service", P&W said on 18 July.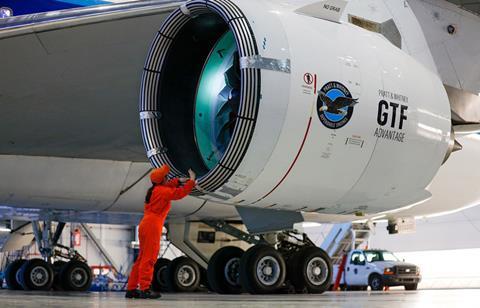 It has already completed more than 2,000h of GTF Advantage development and certification trials. Later this year, the company intends to fly the powerplant on the wing of a flying testbed operating out of Mirabel, Canada.
The company rolled out the GTF Advantage development programme in late 2021 and has said it expects to begin delivering the enhanced PW100G, for Airbus A320neo-family jets, in 2024.
"The engine will also start aircraft-level validation testing on the Airbus A320neo development aircraft in Toulouse, France," P&W says.
P&W says the GTF Advantage is more powerful than the current version of the powerplant, and is 1% more efficient.
The new variant will generate 4% more thrust at sea level and 8% more at hot-and-high airports, according to P&W.