Supply chain constraints and labour shortages continue limiting the ability of Raytheon Technologies and its subsidiaries to deliver aerospace products, including aircraft engines.
Such troubles have left Raytheon subsidiary Pratt & Whitney behind in its planned deliveries of PW1000G geared turbofans (GTFs), Raytheon chief executive Greg Hayes says on 26 July.
Meanwhile, shortages of titanium due to sanctions against Russia are keeping Pratt & Whitney Canada (P&WC) from meeting its production goals.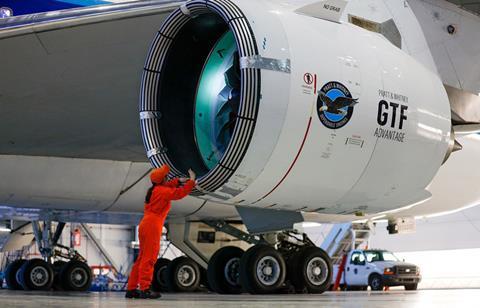 "The availability of skilled labour is a real challenge… We are seeing it both at our suppliers and at our own shops," says Hayes, speaking on the day Raytheon released its second-quarter earnings. "This does not get solved this year."
Despite such factors, Raytheon turned a $1.3 billion profit in the second quarter of 2022, up 25% year-on-year. The company expects continued strong financial performance from its P&W and Collins Aerospace divisions, citing particularly strong demand for commercial aviation aftermarket services.
But stubborn supply troubles remain.
"We continue to deliver [geared turbofans] behind schedule, and we will not catch up until the end of the year," Hayes says. "This goes back to a single issue around structural castings."
Shortages of metal castings used in aircraft engines have been hindering production by both P&W and its prime competitor, CFM International. The manufacturers each supply engines for Airbus A320neo-family jets, while CFM also supplies powerplants for Boeing's 737 Max. The companies face the challenge of meeting the airframers' production targets, particularly that of Airbus, which aims to significantly hike A320 output in the coming years.
P&W delivered 177 large commercial aircraft engines in the second quarter of 2022, up from 165 units in the same period of 2021.
Despite delivery delays, Hayes insists P&W is "not holding up" Airbus's production lines, and he says P&W is addressing its issues. "You are going to see a big step up in the back half of the year in GTF deliveries."
Turboprop maker P&WC delivered 459 engines in the second quarter, down from 475 one year prior. Hayes says P&WC has insufficient supply of titanium forgings, a result of the sudden shutoff earlier this year in supply of such components from Russia.
"We are not going to make all deliveries," Hayes says of P&WC. "We don't have the titanium forgings."
The company has already identified alternative titanium suppliers. But Hayes says parts from new suppliers must undergo extensive metallurgical analysis, and then be certificated. "That's the part that takes time."
Hayes stresses that supply chain challenges are closely linked with shortages of skilled workers.
Following previous industry downturns, roughly 75-80% of employees laid off would return to their jobs during post-downturn recoveries.
"In this case… only about 25% of the people are coming back," Hayes says. "They have found other jobs."
He adds that smaller aerospace suppliers are particularly impacted by the tight labour market.
"In the second, third and fourth tier of the supply chain – they are struggling to attract workers," Hayes says. "The only thing that is going to solve labour availability is a slowdown in the economy."