Airbus and Pratt & Whitney have started development flight testing of a more efficient PW1100G geared turbofan – known as the GTF Advantage engine – on an A320neo aircraft.
Flights were performed from Airbus's main production facility in Toulouse, using an A320neo test aircraft (F-WNEO).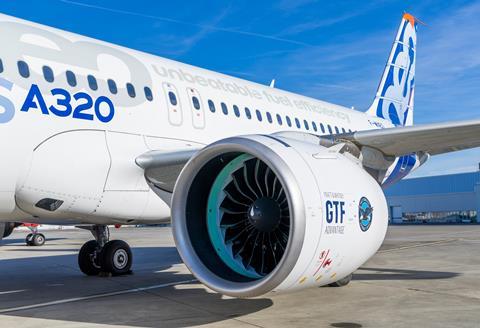 "This early flight-test campaign will continue to mature the engine by testing it in a variety of environments, including hot and cold weather and operation from high-altitude airports," says P&W.
Flight testing and engine certification work – including aboard P&W's flying testbed in Mirabel, Canada – will continue through the first half of 2023, says P&W.
To date, the GTF Advantage has undergone more than 2,400h and 7,800 cycles of testing. P&W has also trialled the engine running on 100% sustainable aviation fuel.
In July, P&W began work related to certification of the GTF Advantage, having previously indicated it expects to begin delivering the enhanced turbofan in 2024.
P&W president of commercial engines Rick Deurloo says: "[The GTF Advantage engine] enhances aircraft capability by increasing thrust and protects durability by running cooler. For airlines, this means new revenue opportunities and better operating economics.
"Our revolutionary geared-fan architecture is the foundation for more sustainable aviation technologies in the decades ahead, and the GTF Advantage engine is the next step in that journey."