Pratt & Whitney and Embraer have completed the first flight test on 100% sustainable aviation fuel (SAF) with an E195-E2 regional jet.
The aircraft performed a 70min flight from Vero Beach airport in Florida, with one PW1900G engine running on 100% SAF. It follows two days of ground testing at Fort Lauderdale airport, says P&W.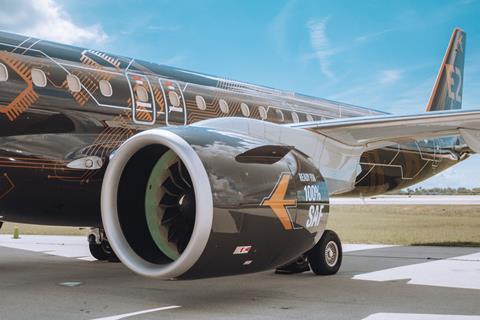 For the test flight, both companies made use of used 100% vegetable oil-based HEFA-SPK (hydroprocessed esters and fatty acids synthetic paraffinic kerosene) fuel acquired from USA-based World Energy.
P&W engines and Embraer aircraft can operate with SAF blended up to 50%. Work is ongoing to allow PW1100G-family engines to be able to operate at 100% SAF.
Embraer Commercial Aviation vice-president, strategy and sustainability, Rodrigo Silva e Souza says the E2's emissions can be slashed by 85% against previous generation aircraft, if full-SAF is used.
He says: "Replacement of older aircraft by new generation products and scaling up SAF production are the two most effective actions commercial aviation can take now to achieve a significant reduction in emissions.
"This test demonstrates that the E2 is ready for 100% SAF certification and operation once the industry finalises standards."
P&W in March announced it was teaming up with Air BP on the use of 100% SAF for engine testing and research.
Under that agreement, both parties intend to work together to explore a "viable supply" of full-SAF for engine and propulsion tests through 2024.
In the same month, P&W completed on-ground testing using 100% SAF on its GTF Advantage-configured PW1100G engines.