Despite previously casting doubt over Airbus's long-term presence in the UK should the country pursue a no-deal departure from the EU, the airframer's chief executive now appears to have taken a more measured stance.
Speaking during the opening ceremony of this week's FIA Connect virtual Farnborough air show, Airbus boss Guillaume Faury said that while a hard Brexit "could be an additional challenge" as the industry simultaneously copes with the impact of the coronavirus pandemic, the move could also present opportunities.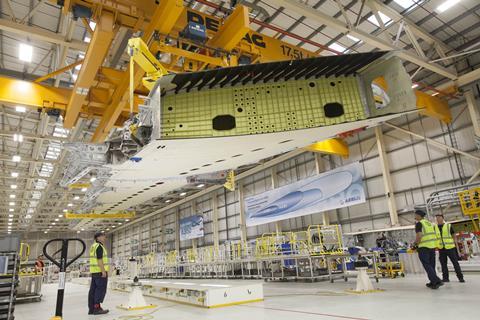 "We hope the UK ecosystem will be more competitive, will be more innovative and that we will have a long-term presence in the UK," he says.
However, London has yet to offer direct assistance to the UK's aerospace sector, in contrast to the billions of euros in support already pledged by France and Germany for their domestic industries; Paris alone has put up €15 billion ($17 billion).
Indeed, a 20 July announcement from the UK's Department for Business, Energy and Industrial Strategy of £400 million ($505 million) – split equally between industry and government – to help the sector go green, merely references funds already allocated via the Aerospace Technology Institute.
Faury acknowledges that the financial backing from its effective home nations was "rather quick", but believes it can forge a successful collaboration with the UK government.
Projects highlighted in the business department's announcement include several focused on wing design and assembly processes, alongside innovative wing concepts, all spearheaded by Airbus sites in Broughton and Filton under the airframer's Wing of Tomorrow initiative.
Faury says that decarbonisation and digitalisation are both "very high on the agenda of the British government and this makes a lot of sense for us. We continue to see the relationship between Airbus and the UK as a very successful one."
While a hard Brexit by year-end is still viewed a potential threat, Faury believes it is not insurmountable.
"We don't like it but it is one problem among others that we have to solve," he says.
Speaking on the same panel, Victoria Foy, chief executive of Safran Seats UK, said that the attitude of the firm's French parent was "no different to pre-Brexit or pre-coronavirus".
Safran continues to see the UK as an important part of its industrial base, she says: "They invested in the UK a number of years ago and have continued to do so over the last two years."
Recent lay-offs and plant closures were the "direct consequence of Covid-19, not a lack of confidence in the UK".