Boeing has started to assemble the first two weapon system trainers and an operational flight trainer for the US Air Force's (USAF's) T-7A Red Hawk advanced jet trainer.
The ground-based systems are being built at Boeing's facilities in St. Louis, Missouri, the company said on 1 December. The simulators include dynamic motion seats and Boeing Constant Resolution Visual System's 8K projectors, which provide a 360° field of view to pilot trainees.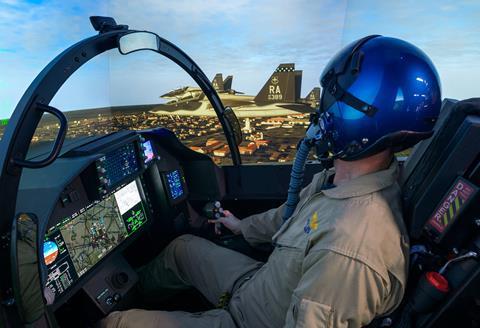 In 2018, Boeing won a contract worth $9.2 billion to replace the USAF's fleet of Northrop T-38s with 351 examples of the T-7A jet trainer and 46 simulators.
The simulators are designed using an open systems architecture, a feature intended to allow the USAF to quickly plug-in new software and hardware as it becomes available, including products from third-party developers.
Boeing plans to deliver the first T-7A simulators to the USAF in 2023. That is the same time the first jet trainers are expected to arrive at Joint Base San Antonio-Randolph, Texas.
Winning the contest to replace the USAF's aged T-38s was a major boost for Boeing, which is now touting the service's endorsement of the aircraft as a reason why foreign militaries should also buy. The company believes there is a potential global market for as many as 2,600 T-7s, an assessment which includes the trainer variant and a forthcoming light-attack variant of the aircraft.