After spending just over a year at the helm of Sweden's aerospace, defence and security champion, Saab chief executive Micael Johansson is happy with the company's performance, despite the challenges presented by the coronavirus pandemic.
With the health crisis having largely not affected its domestic operations – Sweden has imposed no workplace lockdown measures since the global outbreak – the company has enjoyed notable successes with two of its most important programmes during 2020.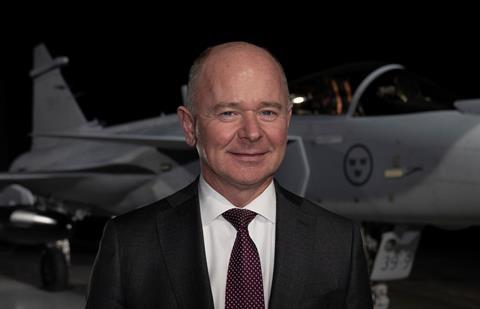 All but "a couple of hundred" of Saab's 14,000 employees in Sweden have been working at its sites as normal, albeit with increased hygiene measures in place. "We have been careful," Johansson says, noting that the approach has actually resulted in staff absences due to sickness falling this year.
On 29 April, the first of three GlobalEye swing-role surveillance aircraft ordered by the United Arab Emirates (UAE) touched down in Abu Dhabi. A second example of the heavily adapted Bombardier Global 6000 followed in September.
The UAE in November 2019 announced an intention to increase its GlobalEye fleet to five aircraft. "Negotiation has been progressing – that's still absolutely in play," Johansson says.
Meanwhile, Gripen E deliveries into the Swedish and export buyer Brazil's joint verification and validation programme are ongoing.
Lone examples of the new-generation fighter were handed over to each customer in late 2019 to support test activities in Sweden, and Brazil's first locally-designated F-39E was recently shipped to and flown in the country.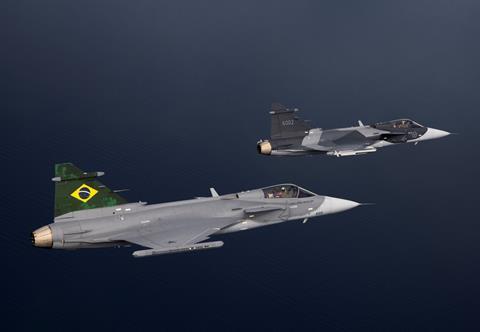 While his volume of overseas travel has been impacted by global travel restrictions, Johansson made two trips to Brazil inside a week in late October. The first was to attend a high-profile ceremony in Brasilia welcoming the F-39E, also attended by Brazilian President Jair Bolsonaro and air force leaders, and he then returned to speak at a conference about the development of the nation's aerospace industry.
A further four aircraft will be transferred to the Brazilian air force in 2021, including to its Wing 2 at Anapolis air base late in the year. It has 36 examples on order, including eight two-seat F models, and follow-on purchases are anticipated over the coming years.
"The programme is a real success," Johansson observes. "It brings something substantial to the country.
"We have done extremely well when it comes to partnerships in Brazil," he adds, referring to its largest-ever transfer of technology, including to Embraer. "You must have something to build upon – that's why this has been so successful," he says.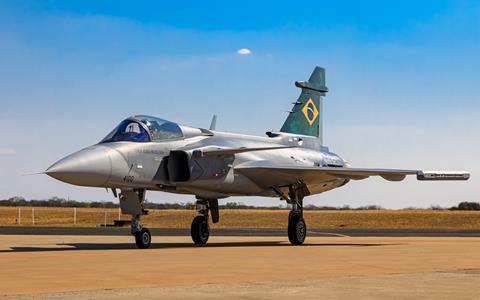 An in-country Gripen design and development facility and flight-test centre have already been established, along with a local capability to produce subassemblies. Brazilian companies also are now feeding its supply chain.
Brazil's purchase – which sees the nation leading development work on the Gripen F – also could open the way for further sales in Latin America.
Saab is already targeting Colombia's combat aircraft needs, working in conjunction with Embraer. The nation's air force is due to complete an evaluation process during December, as it looks to replace its aged Cessna A-37s and Israel Aircraft Industries-built Kfirs.
"I don't think we can win a Gripen E contract in Colombia if we do not do that from Brazil to a large extent, with the support of the Brazilian air force and Brazilian industry," Johansson says.
Johansson, who succeeded Hakan Buskhe in his role in September 2019, sees strong potential for multiple further sales of both the Gripen E/F and GlobalEye.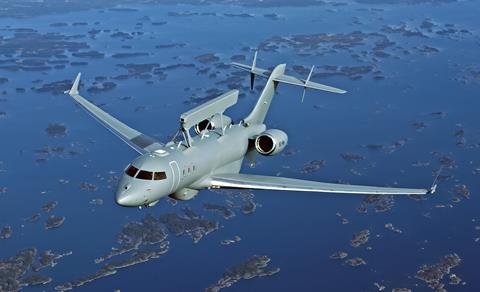 Finland has been offered both types for its HX requirement to replace ageing Boeing F-18s. A selection is expected next year, with rivals being the F/A-18E/F Super Hornet and EA-18G Growler, Dassault Rafale, Eurofighter Typhoon and Lockheed Martin F-35A.
The Gripen E is also on offer to Canada, where he says Saab has tabled "the most comprehensive response we're ever delivered". Other opportunities exist with Austria, along with existing C/D-model operators the Czech Republic and Hungary, while the earlier standard is currently being pitched to Croatia.
COMPETITIVE OFFERS
"We have very competitive offers in all campaigns," he says.
Sweden, meanwhile, is expected to define a need to replace its pair of Erieye airborne early warning radar-equipped Saab 340s when it publishes its new defence bill in December 2020.
Johansson says there is also strong interest in the Erieye ER-equipped GlobalEye in the Asia-Pacific region, and Europe. He believes the type could also potentially provide a "gap-filler" capability for NATO, whenever the Alliance begins replacing its Boeing E-3A airborne warning and control system fleet.
The GlobalEye's sensors are capable of simultaneously performing surveillance of airborne, land and maritime threats. The technology also can determine a swarm of drones from a flock of birds, find low-flying or hovering helicopters, and as new threats emerge, Johansson says "we can look at new functional modes".
Elsewhere, Saab in the process of establishing an aft fuselage manufacturing facility in West Lafayette, Indiana, for the US Air Force's Boeing T-7A Red Hawk advanced jet trainer. It launched engineering and manufacturing development production work at its Linkoping site in Sweden in January 2020.
Another opportunity exists with the UK's Tempest future combat air system (FCAS) activity, which is also supported by Italy and Sweden. Saab is to invest in an FCAS centre in the UK to support the project.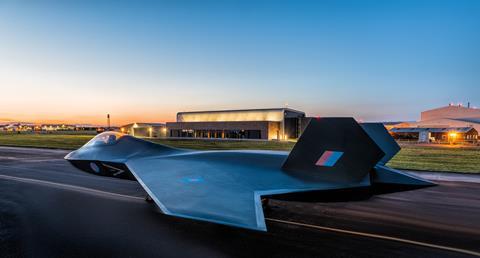 A trilateral memorandum of understanding should be signed late this year or in early 2021.
"We will definitely support that avenue and we will invest," Johansson says. "We want to be part of this, preferably at an OEM level, being part of the system of systems, and also at the platform level.
"Exactly to what extent and how big of a portion will be related to Sweden when it comes to the business case, and how much will be invested – that's still to be seen," he says.
"We have a great working relationship with BAE Systems and the British industry. On the industrial side, despite the Covid[-19] situation things are done extremely well. Let's see what governments sort out in terms of funding, and focus on the next phase. It is a really important programme for us."
More immediately, faced with supply chain disruption, Saab in October announced a potentially SKr1.5 billion ($170 million) impact to its Aeronautics unit, in part due to the need to bring some work back in-house, or to qualify alternative suppliers on the Gripen E programme.
Johansson explains that the measure – intended to protect production as it ramps up over the next several years – relates to some single-source suppliers within its global network, and includes "items affecting functionality growth".
Johansson has spent his entire career with Saab, having joined in 1985 as a systems engineer working on image processors, after studying mathematics and computer science at university. That early work involved using "racks of computers, with the power of an iPhone", he notes. Immediately prior to becoming chief executive, he headed Saab's surveillance business area.
He sees making regular visits to the company's sites as an important part of his role in charge of a broad product portfolio. This ranges from command and control equipment to sensors, guided weapons, remote tower technology and the A26 submarine.
"You have to understand what you are trying to lead," he notes. This requires what he describes as a continuous process of learning and upskilling. "I don't want to – just because I've been here 35 years – be the one that says 'do it the way we did it earlier'," he says.
SUSTAINED INVESTMENT
"We will always be a company working heavily on R&D and innovation. To sustain that is an important area for me – especially seeing the pace of technology development today," he notes.
"Our focus is to be more multi-domestic, in terms of where we have our operations: that is a good way of growing the company." Countries where he would like to see its capabilities develop further include Australia, Finland, Germany, the UAE, the UK and the USA.
"I am happy to have an organisation with quite a lot of people in different countries during this pandemic – otherwise it would have been extremely difficult," he says. "We have seen the effect of that [strategy] on or order intake, which has been better than last year, despite this situation."
Summing up his first 12 months, Johansson concludes: "This is a fantastic job, to get to meet so many stakeholders around the world, and I'm so proud of the company and our employees.
"We bring a lot of good capabilities and technologies to the marketplace, and I believe a lot in trying to protect and create secure societies."